Anti Stress & Anxiety Package 120min | €95 (save €155)
21st October 2022 - by Indre Daukintyte
Marion Mizzi Spa Anti-Stress & Anxiety Package 120min | €95 (save €155)
2-hour oils treatment experience (full body massage, head massage, face cleansing and foot massage), spa facilities, a glass of Prosecco/tea. Two hours is what YOU need to relax.
A wonderfully relaxing massage designed to soothe both body and soul. Enjoy the feeling of your daily stresses disappearing as you sink into blissful relaxation. This is a full traditional massage that stimulates blood circulation and improves skin and muscle tone while soothing tense and tired muscles. The overall experience eliminates mental stress.
Head massage is a deep style massage that focuses on the head, applying various techniques to reduce stress and release tension in the upper body. Massaging the scalp can help stimulate nerves and blood vessels around the area and calm muscle tension around the head.
Face cleansing gives you great benefits for your appearance and skin health. Clear up any build-up for healthier and smoother skin. Keeps your skin hydrated, soft, supple and youthful looking.
Working on reflex points of the feet restores imbalances in the body and promotes physical, mental and emotional health.
2-hour treatment |

€95 instead of €250
Can be purchased as a Christmas voucher. This will come in a special Christmas Box with Mitzi's Elixir.
Enjoy unlimited spa facilities after and before your treatments.
Spa facilities include unlimited use of a sauna, jacuzzi, and indoor pool. (Available at Marion Mizzi spa at the AX Palace Hotel, Sliema, Maritim Antonine Hotel, Mellieha and Radisson Blu, St. Julians)
Organic oils are used during the massage.
The addition of essential oils in a massage oil's formula will increase the effects of the massage on the body and mind. Indeed, aromatherapy has many benefits such as reducing stress and anxiety or treating small aches and pains. 
After your treatment, you will have a cup of herbal tea or a glass of Prosecco to fully relax in our special tranquillity area. 
Treatments will be customized according to your needs to achieve the best results.
Available at Marion Mizzi Spa
Send us a private message on Facebook or WhatsApp +356 9999 2424
AX Palace Hotel, Sliema (+356) 22623421
Marion Mizzi Wellbeing Fgura, Zabbar Road (+356) 21896545 /( +356) 21675696 (Spa Facilities are not available)
Maritim Antonine Hotel, Mellieha (+356) 21524025
Radisson Blu, St. Julians (+356) 23751932
You can purchase it now and use it in 3 month. 
Purchase as a gift voucher for your loved one. 
Anxiety Signs and Symptoms
Feeling restless, wound-up, or on-edge.
Being easily fatigued.
Having difficulty concentrating.
Being irritable.
Having headaches, muscle aches, stomachaches, or unexplained pains.
Difficulty controlling feelings of worry.
Having sleep problems, such as difficulty falling or staying asleep.
How massage can reduce anxiety and stress?
Massage helps relieve stress by lowering the heart rate, increasing relaxation, and releasing feel good hormones. Emotions such as anxiety and depression can be reduces once stress levels are decreased. Receiving a massage is beneficial to increasing the feeling of content and well-being.
https://www.manchesterphysio.co.uk/treatments/massage/benefits-of-massage/decrease-stress.php
Spa Facilities at Marion Mizzi Spa
Marion Mizzi Spa located in four different locations around the island. 
Marion Mizzi spa at the Radisson Blu Hotel, St. Julians.  Spa facilities: jacuzzi, sauna, indoor/outdoor pool.
Marion Mizzi spa at the Maritim Antonine Hotel, Mellieha. . Spa facilities: jacuzzi, sauna, indoor pool.
Marion Mizzi spa at the AX Palace Hotel, Sliena. Spa facilities: jacuzzi, sauna, indoor pool.
Marion Mizzi Wellbeing & SPA. Spa facilities are not available.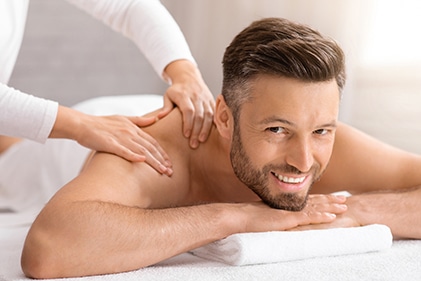 We think you will also like