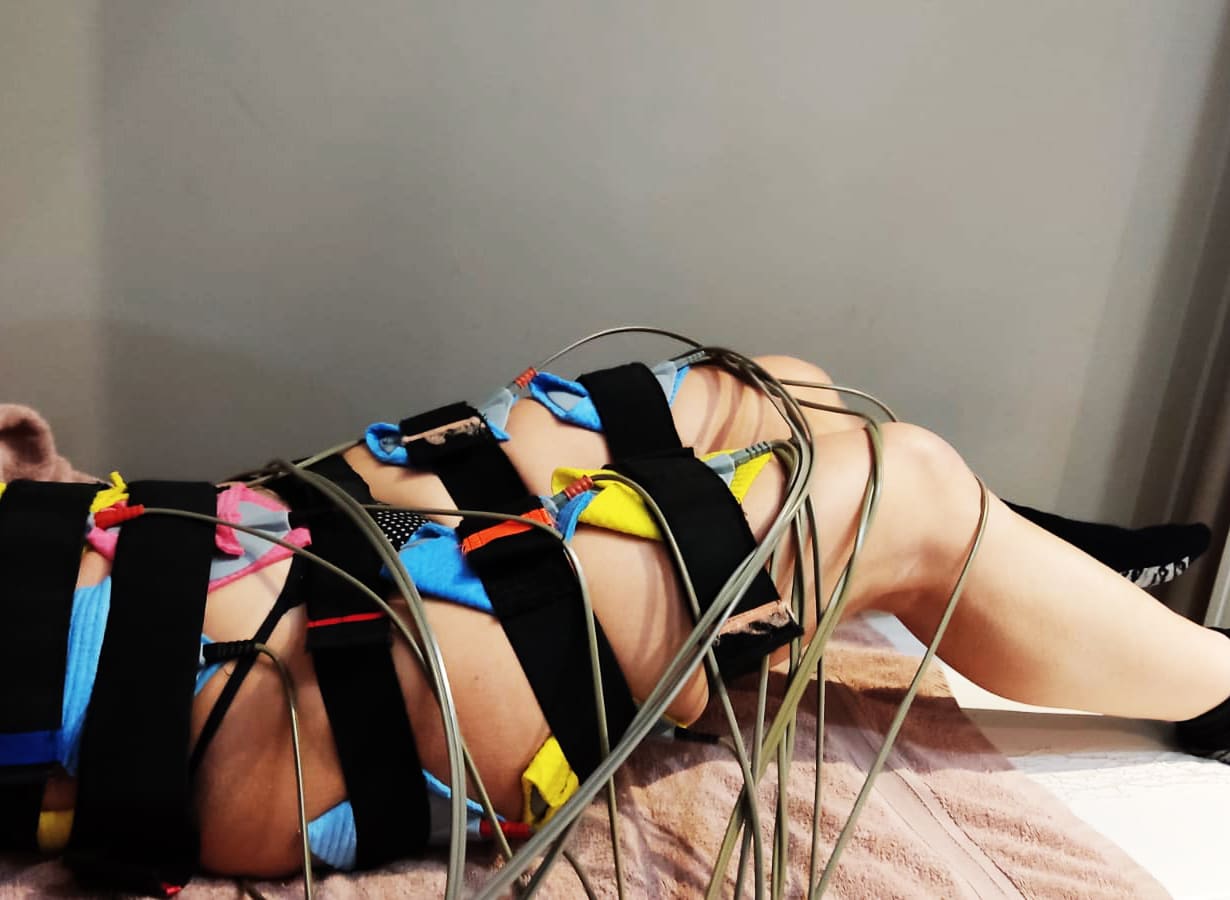 ELECTRICAL MUSCLE STIMULATION
Electrical Muscle Stimulation is an advanced technique used worldwide for toning, reshaping, and firming abdomen, upper arms, inner & upper thighs, buttocks and for maintaining muscle definition.
It works by sending minute electrical impulse to the chosen muscle. These impulses copy the message your brain would send to the muscle to make it contract during normal exercise.
This system allows you to supplement your regular workout program, without putting stress on your joints, lower back or neck and shoulders.
When losing considerable amounts of weight it is essential to keep muscles toned and supple. During electro-therapy treatments, pads are placed over specific parts of the body sending deep penetrating impulses into the muscle, causing them to contract and relax, simulating natural muscle movements. This activity speeds up muscular functions, circulation, reduces fluid retention and detoxifies the body, leading to measurable inch loss.
Muscle stimulation is a highly effective treatment which takes only 45 minutes and is equivalent to 5 hours in the gym.
Electrical Muscle Stimulation has been used for many years by professional athletes, Eastern European Olympic contenders, and physiotherapists to build muscle mass. This muscle exercise is recommended for anyone, including those participating in bodybuilding, power lifting, martial arts, boxing, and athletics, or for people simply wishing to achieve an athletic physique
Is Muscle Stimulation safe to use?
Yes, M.S. is safe to use and has been used by physicians, physiotherapists and chiropractors for decades. We have used M.S in our health clubs, spas and salons for firming, toning and fast inch loss for the past 40 years. Clients see fantastic results with this treatment.
Can I lose weight with Muscle Stimulation?
You will lose inches not weight using M.S. It is a passive exercise and as such will not burn calories. M.S. is designed specifically for toning, firming, building and tightening slack muscles. We have units that are designed to increase muscle density, vascularity and hardness. Remember, no amount of dieting can affect figure faults due to poor muscle tone. Many women and men have been badly disappointed when their diet discipline fails to improve their sagging buttocks.
When will I see results?
You will feel better after your first few sessions. Visible results should be seen within four to six weeks, depending on the condition of your muscles and your body physiology when you start your sessions.
How long will the results last?
M.S. results, like any form of exercise, are never permanent unless you do something to maintain them.
Is Muscle Stimulation good for post pregnancy?
Yes, M.S. is specifically designed to tighten and tone slack muscles. However, do not start treatments for approximately 6 weeks after delivery. Very gentle contractions are recommended to start, gradually building up intensity over several treatments.
I have been dieting, will Muscle Stimulation help me?
Yes, M.S. is ideal to firm and tone your muscles as your body weight is reducing.
I need to reduce my waist line... will M.S. help?
Yes. Many shapeless waistlines are blamed on being overweight, when the real problem is slack muscle tone. Poor muscle tone allows the waist line to bulge outward and droop down onto the pelvic girdle. Vigorous exercise of the abdominal muscles literally pulls the body back into shape, firming up flabbiness and tightening up unsightly bulges.
Will M.S. help my hips buttocks and thighs?
Yes. Today women wear trousers almost as often as skirts, therefore a smooth line on hips and buttocks is essential for any fashion conscious girl. Bulging hips and drooping buttocks can be dramatically improved by E.M.S. exercise of the muscles that control these body areas. "Jodhpur" thighs can ruin the effect of the nicest clothes and slack muscle tone is often the cause. Strong exercise of the long thigh muscles cause them to tighten in and shorten in length, thus pulling the thigh contours back into shape.
Benefits
M.S., while exercising muscles, also stimulates the circulation in the treatment area.
This enhanced blood flow tones up the skin and clears away natural subcutaneous debris.
The physical effect makes you feel relaxed, refreshed and invigorated for a prolonged period after each session.
M.S. improves the condition and performance of muscles, and this means that you feel healthier, springier and less prone to fatigue.
In this respect, M.S. gives similar benefits to those obtained by doing regular sessions of press-ups, knee bends, and other floor exercises. A 45 min treatment is equivalent to a 5 hour workout.
We think you will also like
Whether you are looking to lose weight or achieve maximum relaxation, Marion Mizzi Wellbeing has the perfect treatment for you! Treat your mind, body and soul to ultimate paradise.