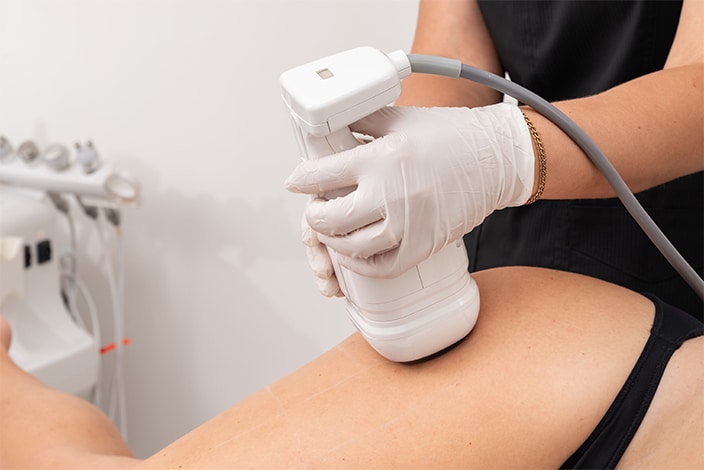 The Liposonix treatment is a non-surgical, non-invasive fat reduction treatment that uses high-intensity focused ultrasound energy (HIFU) to permanently destroy fat cells.
How does Liposonix work?
The Liposonix treatment uses high-intensity focused ultrasound energy. It is the same energy source as diagnostic ultrasound, but it is designed to very precisely target specific areas with high energy to heat and destroy fat cells.
How many treatments will I need?
Fat is permanently destroyed in a single treatment. Several patients have undergone a second treatment 3 months after the original treatment to achieve further fat reduction.
What areas can be treated with Liposonix?
Liposonix has been approved by the FDA to treat the waist and flank areas of the body. This makes it a great fat reduction procedure for getting rid of belly fat, getting rid of love handles, as well as reducing fat on the thighs and buttocks.
When do the results appear, and how long do they last?
Most people see maximum results in 8 to 12 weeks. This is how long it takes for the body to naturally metabolize the destroyed fat tissue. The targeted cells are permanently destroyed, but surrounding fat cells can grow–the best way to maintain results is to maintain a healthy lifestyle.
Book a free consultation:
Marion Mizzi Wellbeing, Fgura - 21896545 or 21675696
Benefits
We think you will also like
Whether you are looking to lose weight or achieve maximum relaxation, Marion Mizzi Wellbeing has the perfect treatment for you! Treat your mind, body and soul to ultimate paradise.