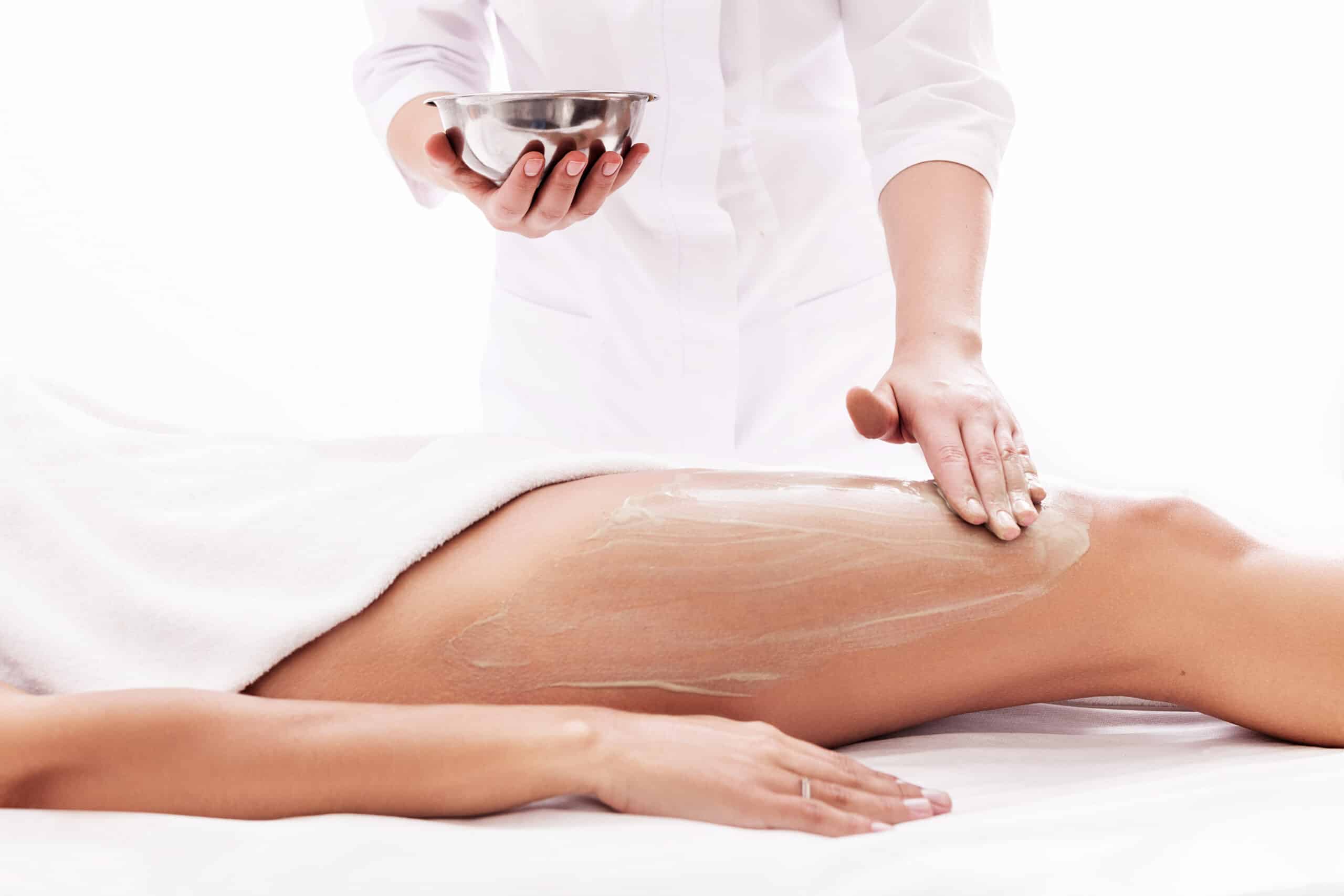 This intense cellulite treatment heats the skin to a high temperature causing vasocongestion, intensive oxygenation of the skin, and deep penetration of active ingredients.
Our Thermo Cellulite mask is a Two Stage Process
Stage 1- The first step consists of Detox exfoliation on the areas of concern,  these areas are massaged with a stimulating and detoxifying body exfoliator which prepares the body for the application of said mask.
Stage 2- Following the intense exfoliation which increases blood flow and removes excess dead cells from the surface of the skin, promoting cell regeneration, the thermo mask is applied, wrapped in plastic and left to set for 30 minutes.
Results are achieved due to the active ingredients within the products acting deep inside the tissue. The products have been scientifically formulated to produce exceptional results from first treatment.
Targets Cellulite and Fat Deposits
One of the strongest professional products available, it is packed full of active ingredients such as caffeine, cayenne, camphor and also menthol resulting in a wide range of benefits, which include improving the appearance of cellulite, reducing water retention, inducing thermogenesis and much more.
Our thermo cellulite mask uniquely uses both hot and cold thermo agents, and the resulting heat and active ingredients stimulates the draw of fluid into the capillaries and the absorption of fatty acids; subsequently, the transport of fat causes the "orange peel" appearance to go.
The thermo agents stimulate fat burning, therefore, reducing fatty tissue and also stimulates the lymphatic system.
The thermo cellulite wrap is very efficient with the heating of subcutaneous tissue, initiating a mechanical stretch of the skin. This in turn influences the production of collagen, stimulates the fibroblasts to enhance collagen secretion, and helps to improve the elasticity of the fat cells, resulting in a significant side benefit of skin tightening.
Targets and Actions:
Unique formula combining a multitude of plant extracts, high concentration of Caffeine, essential oils & thermo agents
Dramatically reduces the appearance of "orange peel" skin
Slims, firms & tones
Fights rebel fat deposits
Eliminates toxins
Thermo agents stimulate lymphatic system & helps burn fat by thermo-regulation
Induces lipolysis and fat burning in layer below skin's surface
Improves circulation and metabolism of fat cells
Reduces feeling of "heavy" legs
Benefits
The Caffeine and plant extracts contained in the preparation stimulate the lymphatic system and discharge excessive amounts of accumulated fluids, reducing cellulite. The intense effects of Cayenne accelerate the metabolism inducing thermogenesis, which is highly beneficial in fat metabolism. In addition, menthol and camphor leave the skin feeling fresh.
We think you will also like
Whether you are looking to lose weight or achieve maximum relaxation, Marion Mizzi Wellbeing has the perfect treatment for you! Treat your mind, body and soul to ultimate paradise.