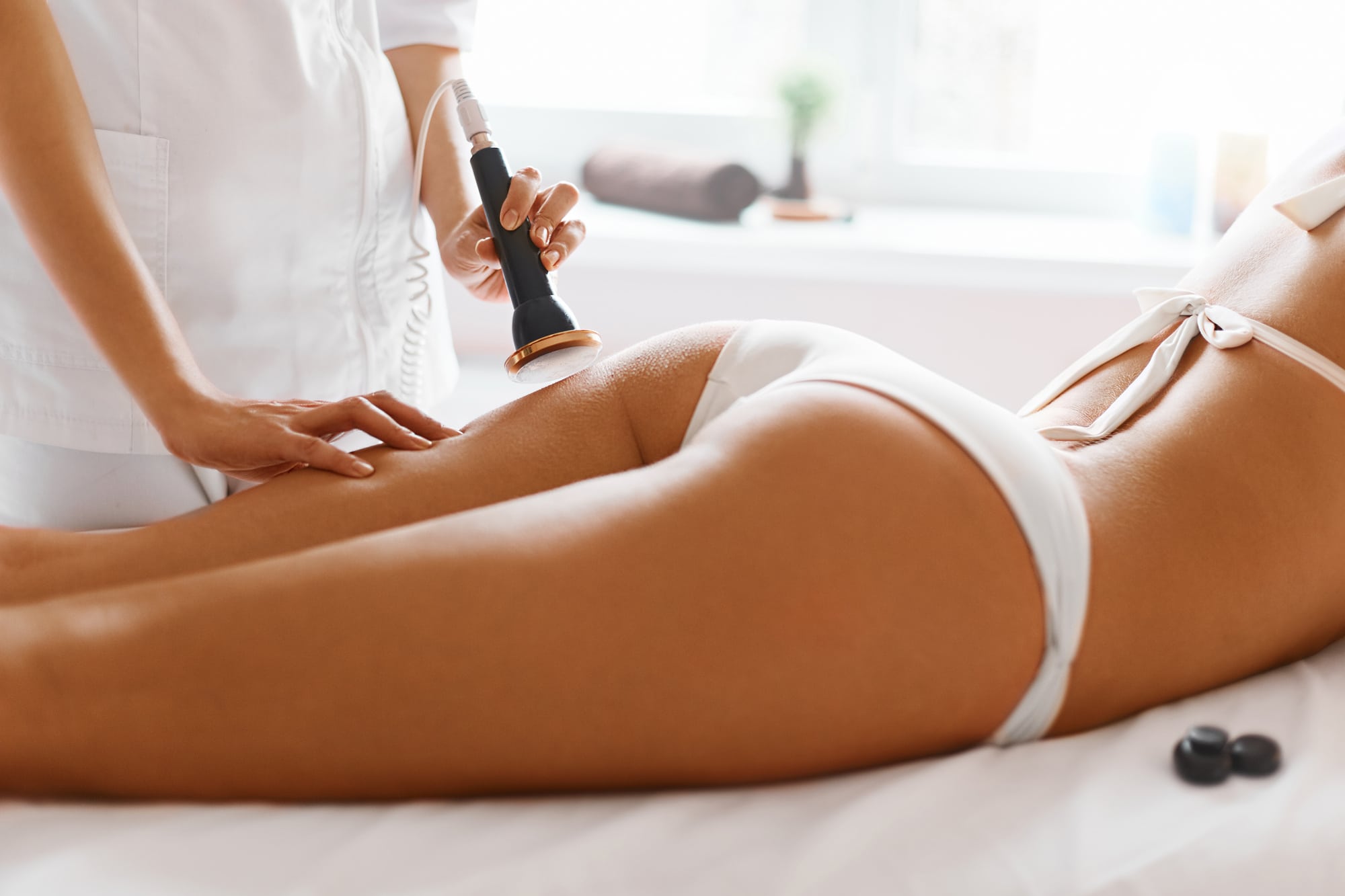 The ultrasound device called a transducer, used in Lipo Cavitation procedures is calibrated only to target fat cells. When ultrasonic waves are directed to the area of fatty tissue you want to remove and damage the fat cell membranes. Because the device is calibrated only to target fat cells, no other damage will occur to surrounding tissues or organs.
During the procedure, ultrasonic waves begin to break down the fat cells being targeted. This causes them to release triglycerides and other fatty substances that are a key component of the flabby tissue.
In the week following a lipo cavitation treatment, your body will process the excess triglycerides and fatty substances through normal physiological processes.
LIPOCavitation is a safe, pain-free alternative to surgery, using ultrasound to destroy fat cells in specific parts of the body. The treatment itself is straightforward and easy to undergo. A specially designed cream is applied to the area that is being targeted, and then an ultrasound device, similar to that used in pregnancy scans, is applied to the skin. The device transmits concentrated levels of ultrasonic energy that targets and destroys subcutaneous fat cells in the fat cell membrane. The fat is then dispersed into surrounding cells and recycled into proteins and glycerol.
LipoCavitation is completely non-invasive and the results are similar to those you can expect from cosmetic surgery. After the first treatment, you can expect to see a significant reduction in your waist line, and the cavitation weight loss effects increase with every subsequent session, until your course of treatment is over. For optimum results, between 5 and 10 treatments may be necessary.
After treatment, you should continue adequate amounts of water and getting regular exercise to help your body process the excess triglycerides and fatty substances released during the procedure.
What are the Side Effects of Treatment?
The known side effects of Lipo Cavitation are minimal when compared to surgical liposuction. For most people, the treatment is painless and doesn't require any recovery time. You may experience temporary skin sensitivity, mild bruising, fluid build-up, or blisters where the transducer was used.
What to do before and after Treatment?
Before Lipo Cavitation, you should already be moderately active and eat a healthy diet. In the week before a treatment session, most doctors will recommend that patients drink about 8 cups of water daily, avoid alcohol, and tanning. And it's important to follow these recommendations. Adequate fluids are needed to help your body process the excess fat and triglycerides that will be released as a result of the procedure. Too much alcohol will limit liver function needed to process these substances. Tanning prior to a treatment can make your skin ultra-sensitive to the ultrasonic waves used in the treatment.
Benefits
What areas of the body can be treated?
Lipo Cavitation is similar to liposuction in terms of the areas of the body where it can be used. The most common areas of the body, where Lipo Cavitation is used, include the abdomen, face, neck, back, cheeks, thighs, chin, hips, upper arms and buttocks. It has also been used to reduce excess breast tissue in overweight men.
We think you will also like
Whether you are looking to lose weight or achieve maximum relaxation, Marion Mizzi Wellbeing has the perfect treatment for you! Treat your mind, body and soul to ultimate paradise.