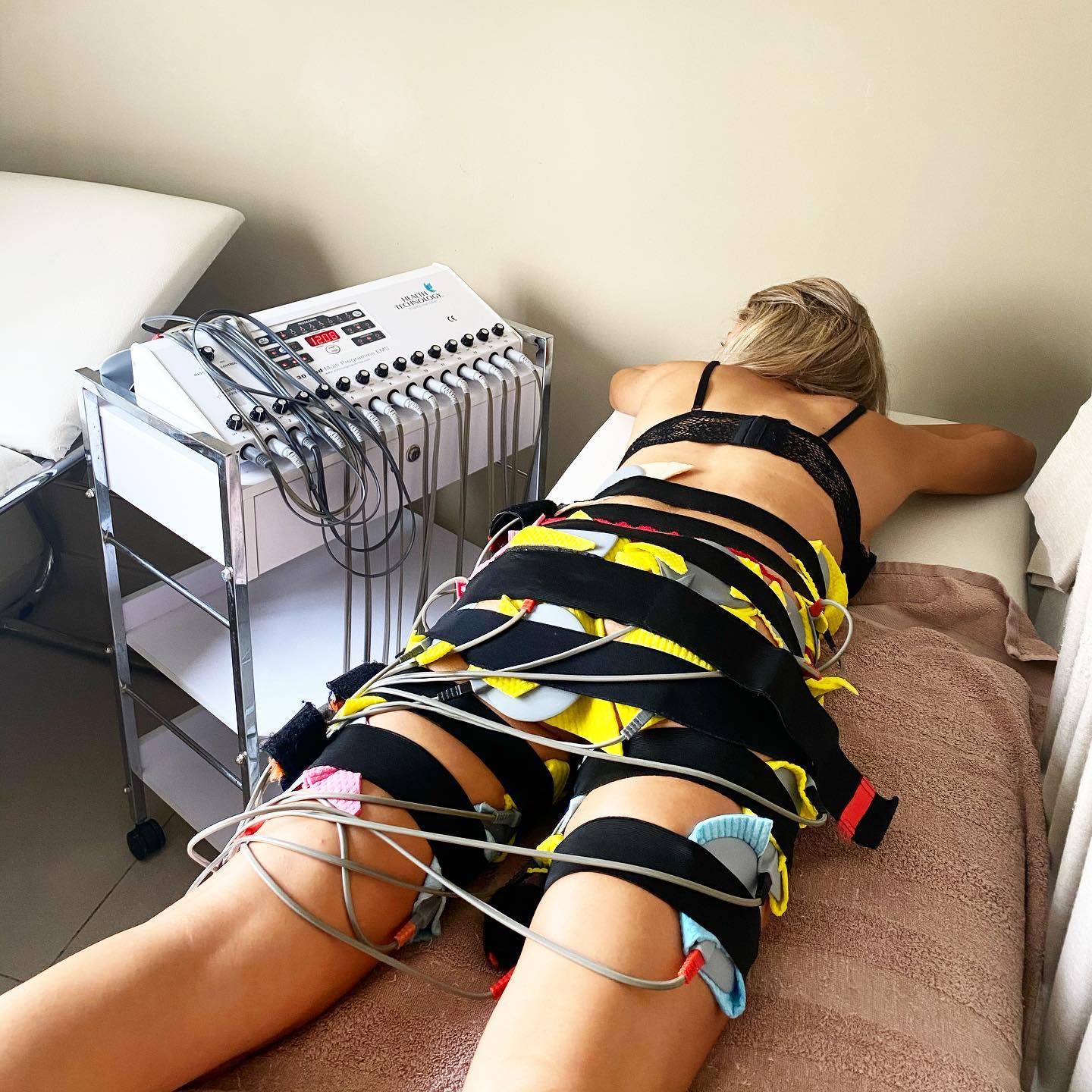 Restoring, Toning & Firming Programme (10 sessions)
See effective results immediately.
1o sessions of

Electrical Muscle Stimulation

& Presso Therapy.
Every programme comes together with a personalised Marion Mizzi diet, endless support and motivation from our professional team, nutritional advice and weekly weigh ins.  
1. A calorie counted balanced diet, which is inherently large in quantity to keep you satisfied for 24 hours.
2. A variety of inch loss and toning treatments to help lose inches in a faster and more effective manner, as well as reducing the possibility of flabbiness during weight loss.
3. Constant motivation and support is offered when attending any of our clubs. A team of knowledgeable nutritionists, dietitians and therapists are available to guide and coach you on your journey to healthy eating, where you will achieve your ideal weight and specific appearance goals.
This program can be tailored to suit individuals of all ages and with any dietary needs.
Pressotherapy
is scientifically proven to enhance your natural figure and improve your general body profile. It can help you get rid of unwanted cellulite, reduce fat and redefine your legs, stomach and arms. However, to achieve weight-loss faster and maintain your body shape, it is essential to stick to a healthy diet. This helps add to the benefits you get from Pressotherapy quickly while contributing a healthy lifestyle.
Using Pressotherapy to lose weight
If your goal is to lose weight, a minimum of four treatments a month is often recommended.
Therefore, pressotherapy is indicated for treating:
· Cellulite and sagging | · Orange peel ​| · Lymphatic problems | · Poor circulation, | varicose vein prevention | · Muscle and joint problems | · Constipation| · Stretch marks | · Postpartum care | · Fluid retention and localised swelling | · Before and after liposuction | · Menopause · Edema |· Weight gain |· General tiredness
Electrical Muscle Stimulation
Using Pressotherapy to lose weight. During the first phase of training, you can expect to start shaping your body. During the second phase, the fat depots will be broken down resulting in substantial fat removal and weight loss. Due to the increased muscle activity during an EMS session, your body will also burn more calories. However, weight loss can only be achieved by a healthy nutrition plan combined with regular exercise. Therefore, EMS training is the perfect complement to a healthy nutritional plan for effective, long-term weight loss.
These sessions can be used over a period of 4 to 6 months. Every session includes a slimming treatment, Marion Mizzi motivational talk, individual guidance and weigh-ins.
Benefits
The toxic build-up, oedema and fluid retention (puffy ankles, heavy legs, bloating)
Cellulite and excess weight
Constipation and other digestive disorders
Pre and post-operative cases (cosmetic surgery or cases where lymph nodes have been removed or the lymphatic system impaired in some way)
M.S., while exercising muscles, also stimulates the circulation in the treatment area.
This enhanced blood flow tones up the skin and clears away natural subcutaneous debris.
The physical effect makes you feel relaxed, refreshed and invigorated for a prolonged period after each session.
M.S. improves the condition and performance of muscles, and this means that you feel healthier, springier and less prone to fatigue.
In this respect, M.S. gives similar benefits to those obtained by doing regular sessions of press-ups, knee bends, and other floor exercises. A 45 min treatment is equivalent to a 3 hour workout.
We think you will also like
Whether you are looking to lose weight or achieve maximum relaxation, Marion Mizzi Wellbeing has the perfect treatment for you! Treat your mind, body and soul to ultimate paradise.