Ayurveda Therapies
16th July 2020 - by Indre Daukintyte
Ayurveda, a natural system of medicine, originated in India more than 3,000 years ago.
The term Ayurveda is derived from the Sanskrit words ayur (life) and veda (science or knowledge).
Based on the idea that disease is due to an imbalance or stress in a person's consciousness, Ayurveda encourages certain lifestyle interventions and natural therapies to regain a balance between the body, mind, spirit, and the environment.
Shiro Abhyanga - Indian Head Massage 
25 min | €45
This therapeutic treatment is complete massage of the head, neck, and shoulders using Ayurvedic herbal oils - An ideal treatment to ease stress, headaches and migraines,
Kati Basti (Vasti) 
45 minutes – Euro 55.00
Is a traditional Ayurvedic treatment used for lower backache and disorders of lumbosacral region, including slip disc, lumbar spondylosis, sciatica, spinal problems etc. Kati Vasti is a part of external oleation (Snehana) therapy in Ayurveda. It is very safe and non-invasive. An ideal standalone treatment or boost to any massage treatment.
Nasyam Therapy 
25 minutes – Euro 45.00 (including home care product)
Is a very powerful rejuvenating therapy that involves administering medicated herbal oils through the nose, Making it an ideal remedy for congestion, allergies, sinusitis, headaches, migraine, rhinitis, and other nasal infections. This therapy will cleanse, purify, and strengthen the nasal passages allowing you to breathe fully and easily again.
Lepanam 
25 Minutes – Starting from Euro 40.00
Lepanam is a natural Ayurvedic way to treat skin related problems, where the therapist uses a specific medicated herbal paste. Making this an effective therapy in every aspect and it ensures the elimination of all kinds of skin diseases and inflammatory conditions. In Ayurveda is Lepanam is a well-known treatment for skin disorders, arthritis, gout, and eczema.
Marma Massage 
55minutes – Euro 65
Marma massage is a very important massage therapy in Ayurveda, Marma points are energy points in the body used for healing in Ayurveda. These can be compared to acupuncture points in Chinese Medicine. The focus of marma point massage is primarily to manipulate subtle energy, but physically they're also very effective for relieving stiff muscles and boosting circulation.
Lekhaneeyam 
25 Minutes – Starting from Euro 40.00
This Ayurvedic treatment is an ideal treatment for circulation, cellulite and to tone up the muscles and skin. Where a  very special herbal paste is massaged on the body in an upward direction.
Elakizhi   
75 min | €105
Elakizhi is a therapy used to provide relief from pain, along with rejuvenating and strengthening soft tissues, joints, and muscles in the body. The herbal balls used in this wonderful technique are prepared from herbal ingredients such as the leaves of medicinal plants.
Ayurveda Back Massage 
55 min | €60
Ayurvedic Back Massage uses various forms of pressure and movements with the hands whilst luxurious hot herbal oil (taila) is applied so you not only benefit from the massage but also the oil therapy.
Abhyangam 
55 min  €60 | 75 min €90
Abhyangam is a form of Ayurvedic holistic healing massage therapy that involves massage of the body with warm oils (pre-medicated with herbs for specific conditions). It can be beneficial for maintaining health and is used therapeutically for certain disorders like anxiety, fatigue, arthritis, injuries & backaches.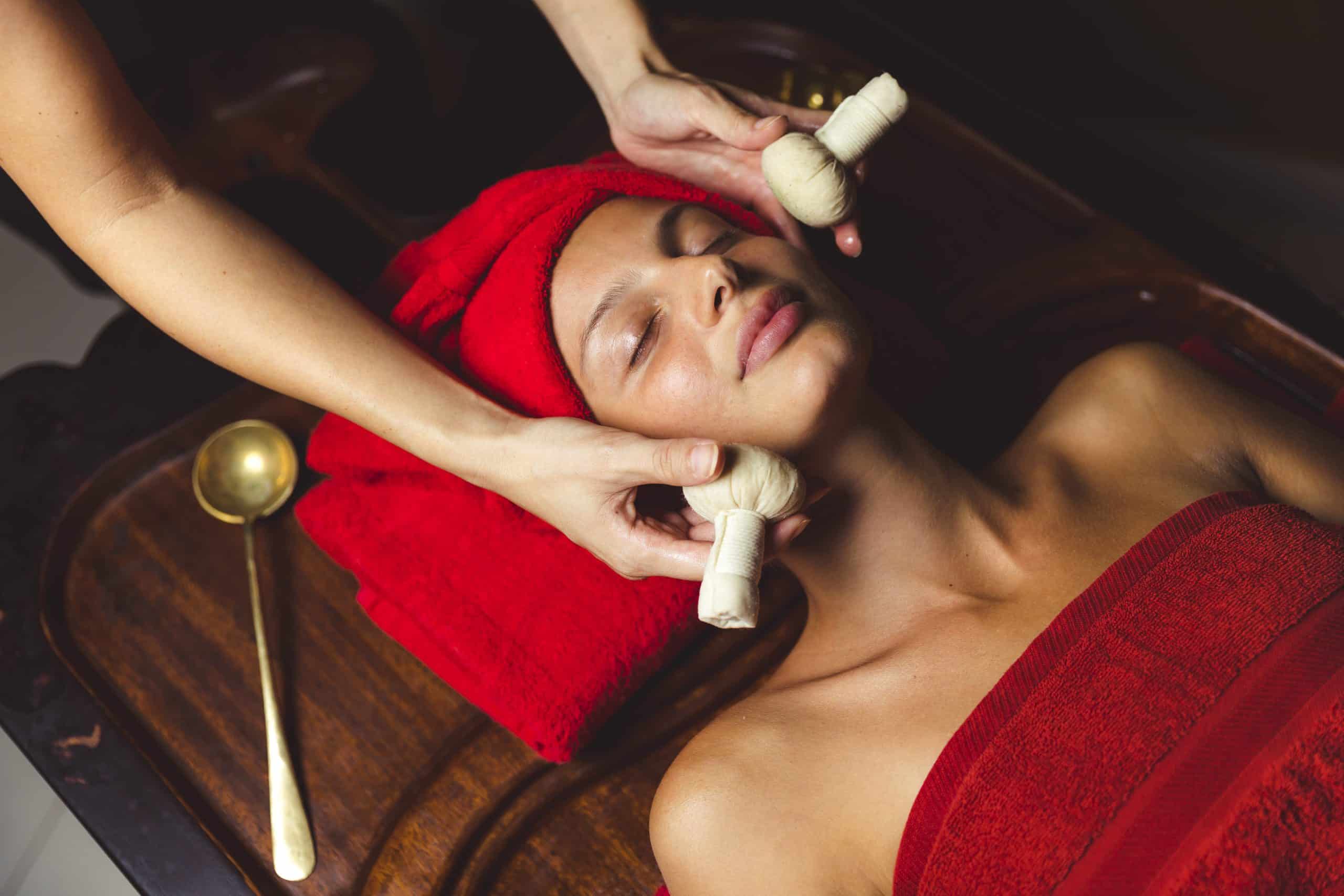 We think you will also like