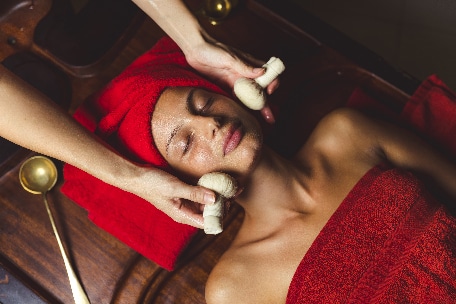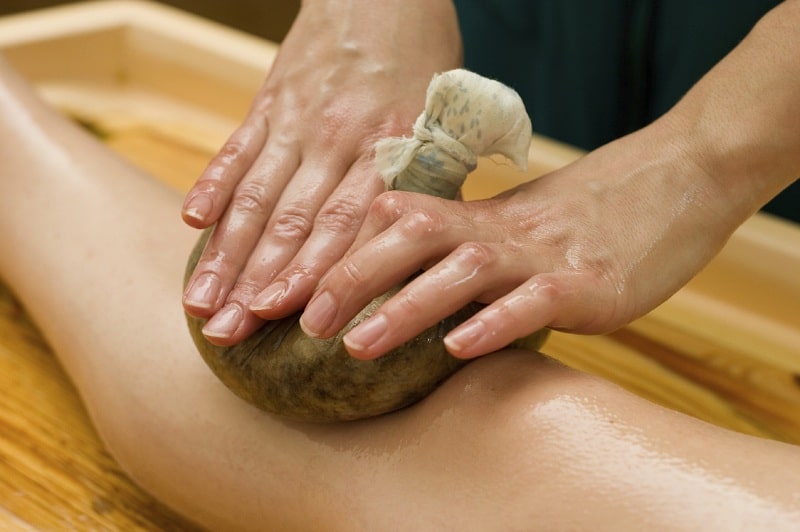 Elakizhi
is an innovative take on a classical massage, using special leaves. This treatment is commonly used to remedy joint pain, muscle cramps, stress and arthritis.
Elakizhi, where Ela means leaf and Kizhi means bundle, is a massage treatment from the ancient traditions of Ayurveda, in which medicinal leaves are used to tackle arthritis, joint pain, muscle cramps and stress. This treatment is especially recommended for inflammatory conditions of bones & joints, chronic back pain, spondylitis, and sports injuries.
Finely crushed herbal leaves and medicated powders are warmed in medicated oil and bundled into boluses in cotton cloth. These bundles are steamed, and the fomentation is patted rhythmically all over the body. The technique alleviates sore muscles and joints and is effective in various types of arthritis, frozen shoulder, sports injuries and all other spastic and inflammatory conditions. It enhances peripheral blood circulation, cleanses circulation channels, and expels toxins through sweat.
Buy 3 Elakizhi (75 min) Massages & Benefit from A Abhyangam Massage (55 min)
Buy 6 Elakizhi (75 min) Massages & Benefit from 3 Abhyangam Massage (55 min)
Available at Marion Mizzi Spa in Malta.
Contact us on Whatsapp for more information +356 99992424
Benefits
This treatment helps with:
Arthritis
Chronic Back pain
Spondylitis
Sports Injuries
Joint pains
Muscle Numbness or Pain
Neurological disorders
Sciatica
Sprains and cramps
We think you will also like
Whether you are looking to lose weight or achieve maximum relaxation, Marion Mizzi Wellbeing has the perfect treatment for you! Treat your mind, body and soul to ultimate paradise.