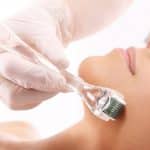 Micro-needling gives amazing results on stretch marks and is safe and effective way to reduce the appearance of stretch marks. Stretch marks result from shear forces on tightened skin and are often the result of pregnancy or other changes in the girth of limbs or the abdomen.
Stretch marks are a form of a scar, which re-approximates the stretched skin surfaces. Stretch marks are tears to the connective tissue of the skin caused by rapid growth or over-stretching of the skin. When the connective tissue is stretched and tears, epidermal atrophy appears along the tear as a result. The epidermis becomes thin and loses it ridges. The elastic fibers break and retract.
Micro-needling can be performed on any area of skin that needs to be repaired, particularly areas that display stretch marks or acne scars, like the legs, chest, back, and buttocks. As few as four to six sessions could make a difference in these problem areas.
Anyone looking to improve the appearance of their skin, prevent signs of aging, treat pigmentation or wrinkles, or fade acne scars or stretch marks is an excellent candidate.
Benefits
On top of micro-needling's ability to smooth and correct damaged skin, it also has the added bonus of tightening loose skin, which makes it great for older men and women. These micro-injuries stimulate the growth of collagen, the scaffolding under the skin, which then improves the appearance of some scars and wrinkles. It also creates channels that allow various substances, serums or your own plasma, to penetrate deeper into the skin.
We think you will also like
Whether you are looking to lose weight or achieve maximum relaxation, Marion Mizzi Wellbeing has the perfect treatment for you! Treat your mind, body and soul to ultimate paradise.