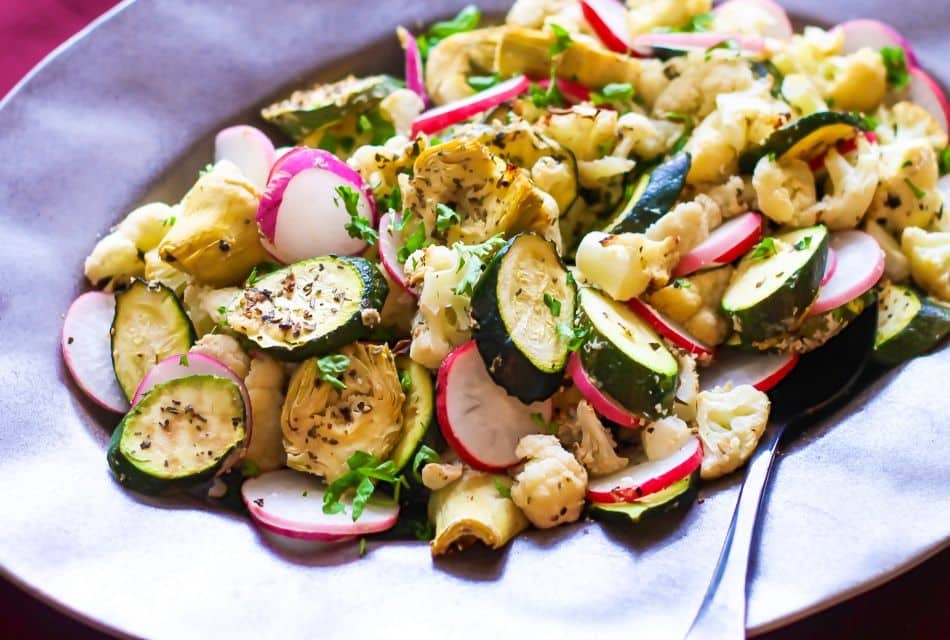 Artichoke salad, zucchini and roasted cauliflower
This salad contains approx. 300 calories and can be served as a side dish or starter to another meal. The best part is it can be eaten at any time of the day.
Method
400g cauliflower, separated into florets
300g medium zucchini
250g drained artichoke hearts
2 teaspoons dried mixed herbs
Salt and pepper to taste
150g radishes
3 tablespoons fresh parsley, chopped
Fry Light Spray olive oil
For the dressing
80 ml apple vinegar
80 ml water
2 teaspoons tahini sauce
1 garlic clove
1 shallot
Preparation
Preheat the oven to 200°C and line a baking sheet with parchment paper.
In a blender combine all ingredients of the sauce and pulse until frothy.
Cut cauliflower, zucchini and artichokes into pieces, then arrange them in a single layer in the pan, spray with Fry Light olive oil and sprinkle some herbs, salt and black pepper then mix.
Roast the vegetables for 25-30 minutes, or until the cauliflower and zucchini are slightly crispy.
In the meantime, slice the radishes and chop the parsley, then transfer to a large bowl.
When the vegetables are cooked through, stir and combine them with the radishes, salt, and pepper. This salad can be served warm or cold to taste.
RELATED RECIPES