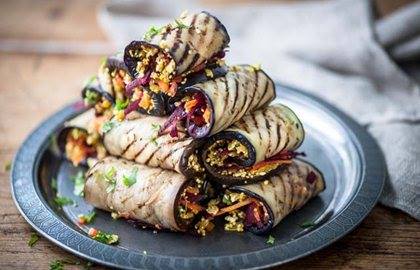 These delicious rolls are a healthy, and easy to prepare snack for any time of the day. Treat yourself.
For the grilled aubergines
1 tsp of cumin seeds, toasted
2 aubergines
1 pinch of salt
Fry Light
For the Quinoa filling
1 tsp of salt
50g of quinoa
1 small onion, chopped
1 tsp of ginger & garlic paste
1/4 tsp of ground turmeric
1/4 tsp of chili powder
100g of ricotta
1 tsp of garam masala
1/4 bunch of coriander, chopped
1 red beetroot, coarsely grated
2 carrots, coarsely grated
1 red pepper, cut small
Method
Wash and cook the quinoa as per packet instructions.
Trim the aubergines and slice lengthways into 4mm thick slices. Place in a baking dish and Spray with Fry Light spray, sprinkle with salt and cumin seeds. Grill the aubergines in the oven until golden.
For the quinoa filling, place a non-stick pan over a medium heat and add Fry Light Spray. Once hot, add the onion and sauté until a light golden brown colour.
Add the ginger & garlic paste, turmeric, salt, and chili powder, then sauté for a further 2 minutes.
Add the cooked quinoa and cook for further 5-7 minutes, then add the ricotta and remove from the heat. Finish with garam masala powder and chopped coriander. Add the grated vegetables and mix well.
Lay out the aubergine slices on a chopping board. Spread a generous layer of the filling on top of each aubergine slice. Roll up each slice to enclose the filling.
RELATED RECIPES