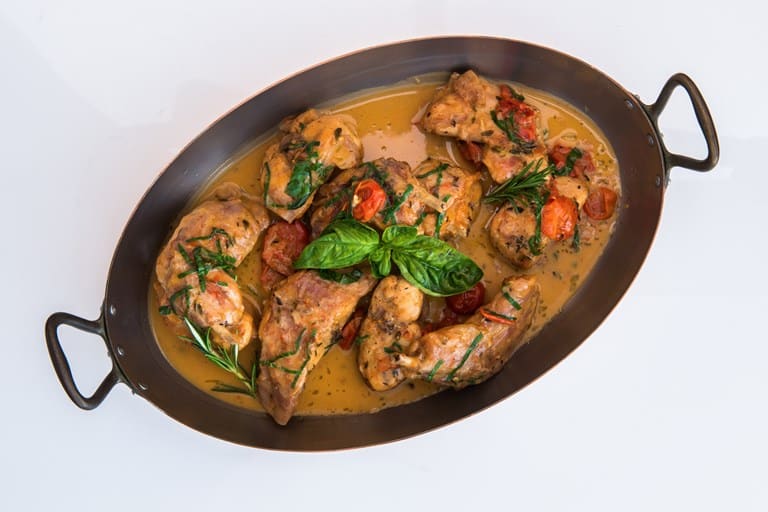 An easy and tasty recipe from Marion Mizzi recipe book "A Journey To A Happy You".
It contains only 400 Kcal. 
Ingredients:
300g rabbit pieces (meat only)
4 garlic cloves - finely sliced
2 onions - finely sliced
1 bay leaf
1 teaspoon mixed spice
1 glass of red wine
3 tablespoons Worcestershire sauce
1 tablespoon mixed spice
2 carrots - cut into chunks
2 marrows - cut into chunks 
1 can of Aster Tomato Pulp
3 tablespoons of Aster Tomato Paste
Method: 
Place all the ingredients in a large bowl, except for the carrots, marrows tomato pulp and paste. Marinate the rabbit for 3 hours. 
Add vegetables, Aster tomato pulp and paste to the rabbit and mix well.
Season to taste.
Preheat the oven to 200C.
Pour the rabbit, marinade, and vegetables into a large oven dish and cook in the oven for 1 hour or until the rabbit is tender.
Send us a picture of your Baked Rabbit! 
Enjoy...
ONLY IN JANUARY - FEBRUARY
Come for a FREE consultation & get a FREE trial session with a duration of an hour.
This would allow us to understand your needs better and guide you on the best programme to reach your goals as we have lots of different programmes available.
Give yourself the best chance at achieving your weight loss goals with Marion Mizzi's unique products, treatments, and recipes. Nobody said weight loss had to be stressful!
We are in Fgura, Sliema or Mellieha
RELATED RECIPES