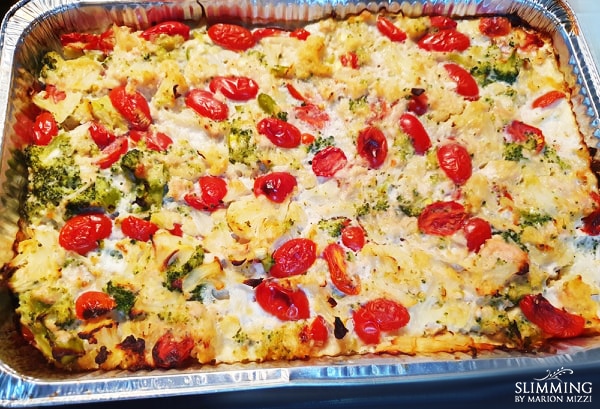 Delicious & healthy main meal idea from Marion Mizzi recipe book "A Journey To A Happy You".
You will never feel hunger pangs with Marion Mizzi's diet! 
CHICKEN PIE
Ingredients:
200g Chicken Mince
1/2 Broccoli
1/2 Cauliflower
1 Spring onion
1 Box Cherry Tomatoes
1 Tablespoon Mustard
3 Egg Whites
Fry Light Low-Calorie Spray
Method:
Boil some water and blanch the broccoli and cauliflower for a few minutes until tender. Remove some of the water.
Add all the ingredients to the broccoli, cauliflower and their water and mix well together.
Prepare a medium-sized oven dish and spray with Fry Light Low-Calorie Spray.
Pour the chicken mixture into the dish and bake in the oven for 30 minutes.
Follow Marion Mizzi Wellbeing on Facebook or Instagram for more recipes!
Lack of motivation or information? Join us in one of our Slimming Clubs, we are in Fgura (21 896545), Mellieha (21 524025), Sliema (21 370208). 
RELATED RECIPES