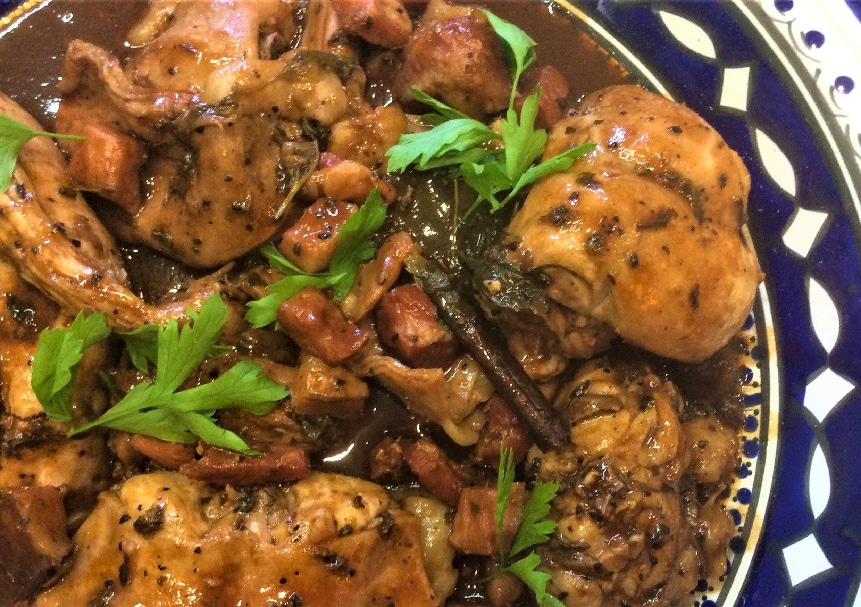 Delicious & healthy recipe idea from Marion Mizzi recipe book "the weight loss guide ".
Fried Maltese Rabbit

Ingredients:
250 g rabbit
1/2 leek - chopped
1 onion - chopped
1 celery stalk - chopped
1 teaspoon whole white peppercorns
5 garlic cloves - crushed
200 ml white wine
500 ml chicken stock
2 marrows - chopped
200 g mushrooms - halved
1 tablespoon fresh chives
2 fresh sage leaves
2 tablespoons fresh thyme
Fry Light Low-Calorie cooking spray

Method:
Heat some fry light low calorie cooking spray in a heavy-based casserole over medium heat and add the leek, onion, celery, white peppercorns, garlic and the sage and thyme. Allow cooking on low heat for five minutes or until the onion softens.
Add the rabbit pieces to the casserole and cook slowly for 6-8 minutes, turning regularly, until browned all over. Add the wine, stock and allow to simmer until the volume of the liquid has reduced.
Next, add the marrows, mushrooms and cook for a further 10 minutes.
Serve the rabbit together with your preferred side dish from our books.
Enjoy!
Book a free consultation, and change your life now.
Just call us:
AX Palace Hotel, Sliema +356 22623421
Marion Mizzi Wellbeing Fgura, Zabbar Road +356 21896545 / 21675696 
Maritim Antonine Hotel, Mellieha 21524025


RELATED RECIPES