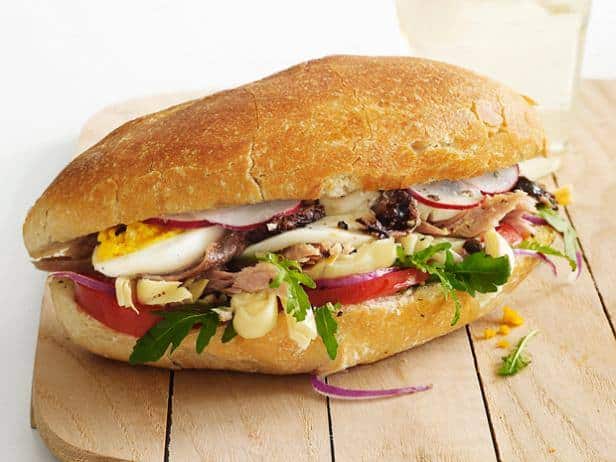 A classical Maltese lunch snack, this ftira is healthy, hearty, and, best of all, is a delicious snack that fits into your diet plan.
Ingredients
1 small ftira
1 egg
3 tablespoons red wine vinegar
Salt and freshly ground pepper
2 cups spring salad mix
1 large tomato, thinly sliced
1 small red onion, thinly sliced
1 cup artichoke hearts, well drained and sliced
1/2 small can of tuna
1 anchovy fillet (optional)
4 medium radishes, thinly sliced
Method

1. Place the egg in a saucepan; cover with water. Bring to a boil and cook for 8 to 10 minutes. Drain and cool in a bowl of cold water.
2. Combine the vinegar, 1/2 teaspoon salt and pepper to taste in a medium bowl. Put the ftira cut-side up on a work surface and lightly drizzle with a quarter of the dressing.
3. Top with the sliced tomato, onion and artichokes. Season with salt and drizzle with another quarter of the dressing.
4. Drain and toss the tuna in the remaining dressing, then divide among the ftira. Peel and thinly slice the hard-boiled egg and layer the slices over the tuna. Thinly slice the anchovy fillet. Top the ftira with the diced anchovy fillet, then the radishes.
5. Using the other half of the ftira, cover the bread, pressing gently but firmly. Wrap the ftira in plastic wrap and place a skillet on top to weigh it down; set aside for at least 15 minutes so the ftira absorbs the flavours.
Serve with a side dish from our books 'The Weight Loss Guide' or 'Is Soluzzjoni ghal-Piz Ideali'.
RELATED RECIPES