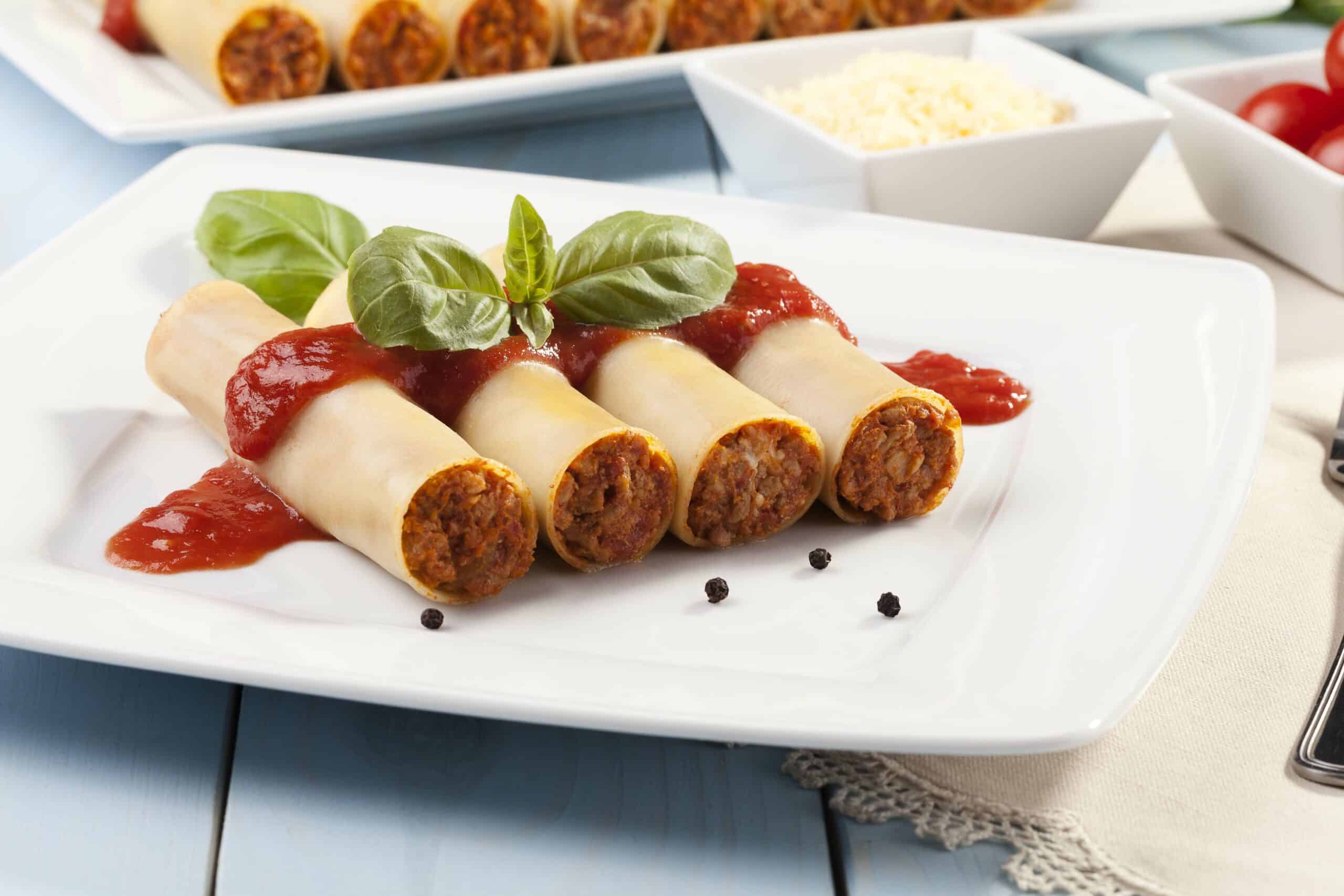 These can be served as a main meal and can be eaten at any time of the day.
Ingredients
1 large onion - finely diced
1 carrot - finely diced
2 garlic cloves - finely diced
2 celery stick - finely diced
100g lean minced meat
100ml red wine
250 Lombardi beef stock
2 cans of Aster Chopped Tomatoes
1 teaspoon dried oregano
1 tablespoon Aster Tomato Paste
1 whole nutmeg - to grate
4 cannelloni
2 springs of fresh flat-leaf parsley
Fry Light Low-Calorie Spray
Method
Spray a pan with some Fry Light Low-Calorie Spray over medium heat, and fry the onion, celery, and carrot until soft. Add chopped garlic, cook for 2 minutes, and set half aside in a bowl.
 Push the remaining mixture to the side of the pan, add the mince and cook for 5 minutes or until browned, breaking up any lumps.
Pour in the wine, Lombardi stock and chopped tomatoes and season. Bring to a boil, cover, and simmer for 45 minutes or until slightly reduces.
Add the herbs and spices and continue to stir and cook on low heat.
Spray a small dish with Fry Light Low-Calorie Spray.
Spoon the mixture into the 4 cannelloni with a teaspoon.
Place the cannelloni in the dish.
Pour the remaining sauce over the cannelloni and bake for 30 to 35 minutes or until tender.
Tear over the parsley and serve.
Enjoy! 
RELATED RECIPES