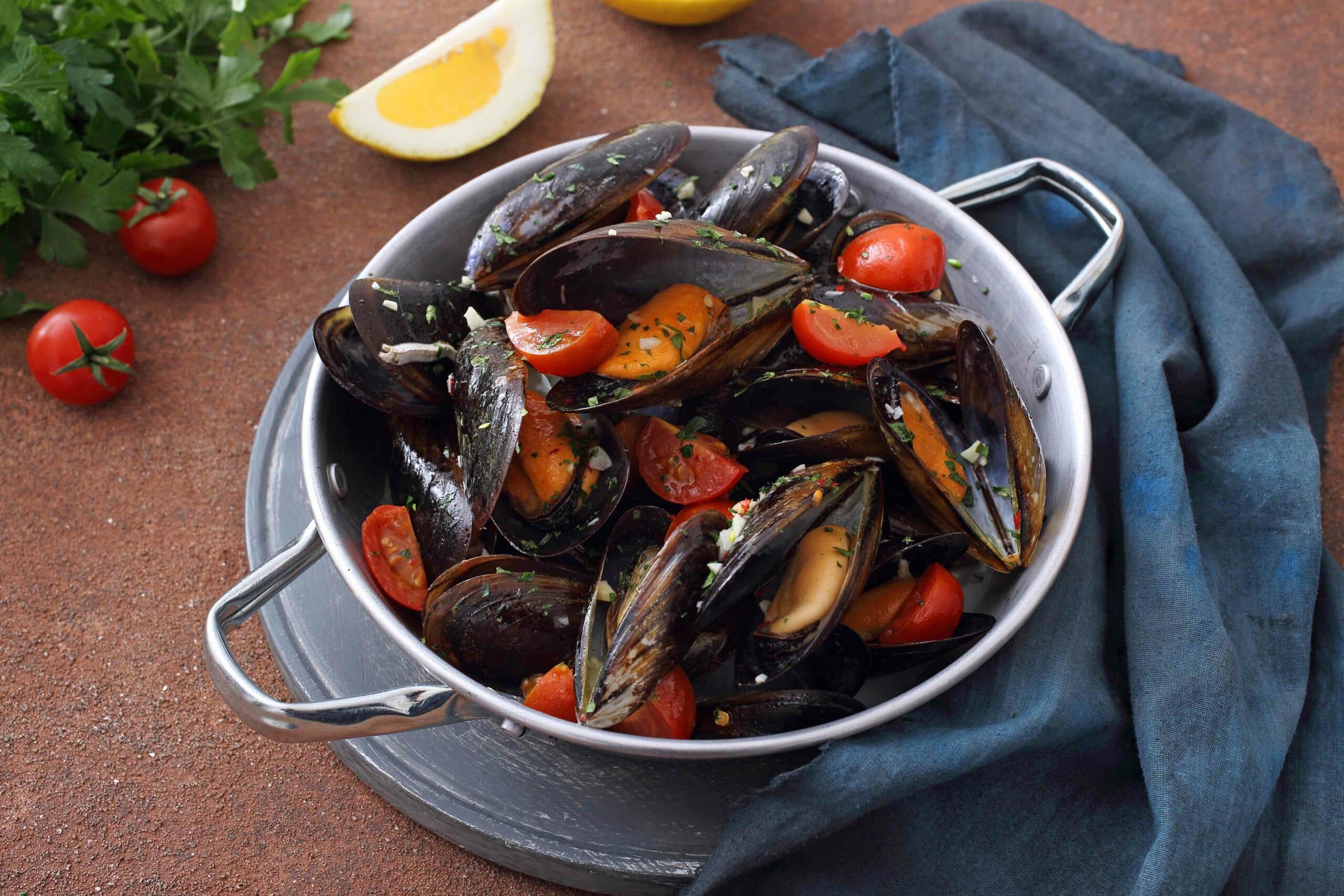 Easy to prepare - tasty - low in calories Mussel Stew!
Ingredients: 
400g mussels in a shell - scrubbed
1 onion - finely chopped
3 leeks ( white part only) - thinly sliced
3 celery stalks - thinly sliced
2 carrots - diced small
1 box cherry tomatoes
2 cups Lombardi vegetable stock
150ml dry white wine
1 tablespoon lemon juice
1 bay leaf
1 spring fresh thyme
1/2 cup (20g) fresh parsley - chopped
2 tablespoons snipped fresh chives
Fry Light Low-Calorie Spray
Method
Prepare the mussels: discard any broken shells or shells that do not close when tapped.
Put the cleaned mussels into a saucepan with some water and cover tightly. Cook over medium heat for 4 minutes, shaking the pan occasionally or until mussels have opened. 
Drain the mussels, reserving the juices. Discard any unopened mussels.
Heat some Fry light Low-Calorie Spray in a clean saucepan. Add the onion, garlic, leeks, celery, and carrot, and cook gently for 5 to 10 minutes, stirring frequently, until the vegetables have softened but not browned. Add the tomatoes, Lomardi stock, wine, reserved juices from the mussels, lemon juice, bay leaf, thyme, salt and pepper to taste. Bring to a boil, and reduce heat to low. Cover the pan and simmer the soup gently for 20 to 30 minutes, or until all the vegetables are tender.
Remove the bay leaf and thyme, and add the shelled mussels, parsley and chives to the pan. Heat gently for about 1 minute. Do not allow the soup to boil or cook for any longer than this or the mussels will become tough and shrink. Ladle the soup into a large bowl with the mussels. 
Enjoy! Yammmy... 
RELATED RECIPES