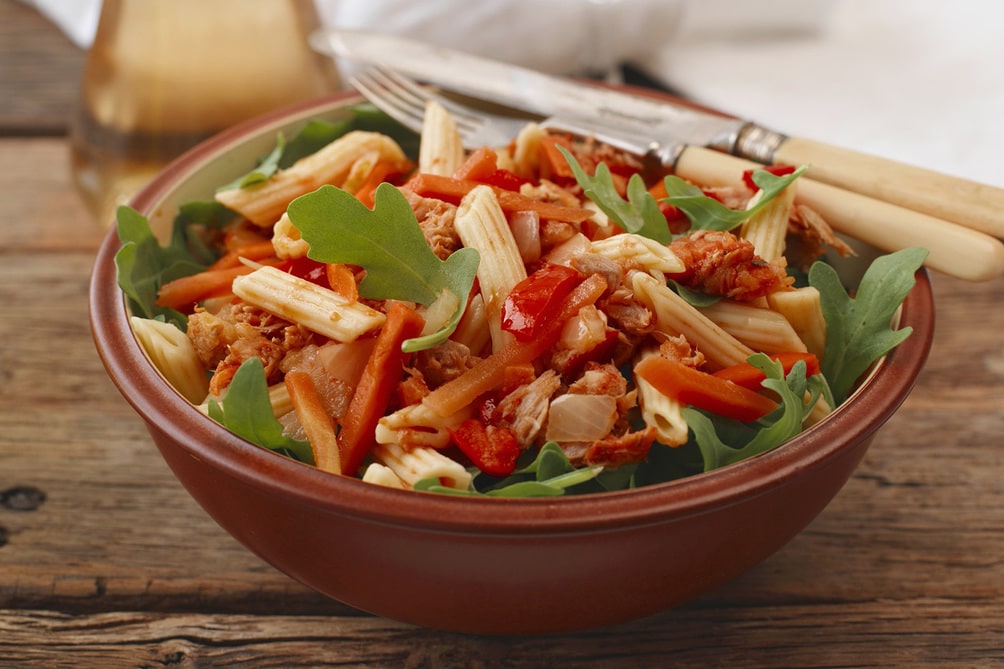 Marion Mizzi Diet Tip: 
Dieting is not as difficult as most of us imagine. It is by far more difficult to live with that extra weight than to diet. Courage and discipline are important elements to achieve your goals. 
PASTA SALAD WITH TUNA
Ingredients:
1 large can Elite Tuna in brine - drained (160g)
1 big can red peppers in brine or vinegar - rinsed and sliced (2/3 cup)
1/2 cup red onion - finely chopped
2 carrots - grated
2 marrows - grated
2 tablespoons capers - rinsed and coarsely chopped
2 tablespoons Benna Natural Light Yogurt
2 tablespoons fresh basil - chopped
2 tablespoon vinegar
1 1/2 teaspoons lemon juice
1 small garlic clove - crushed and peeled
2/8 teaspoon salt (or to taste)
Freshly ground pepper (to taste)
50g penne or 2 packets of Slim Pasta Penne
Method:
Cook the pasta according to the instructions on the packet. Meanwhile, combine the Elite tuna, 1/3 cup red peppers, onion (or scallion), and capers in a large bowl. Add the grated vegetables to the mixture. Combine the Benna yogurt, basil, vinegar, lemon juice, garlic, salt, pepper, and the remaining 1/3 cup red peppers in a blender or food processor.
Puree until smooth.
Add the tuna mixture with the drained pasta along with the red pepper sauce, and toss to coat. 
Enjoy! Don't forget to take a picture and share it with us, tag @marionmizzi! 
Join us on Facebook www.facebook.com/marionmizzi/ & follow us on instagram.com/marionmizzi_wellbeing for more recipes! 
RELATED RECIPES