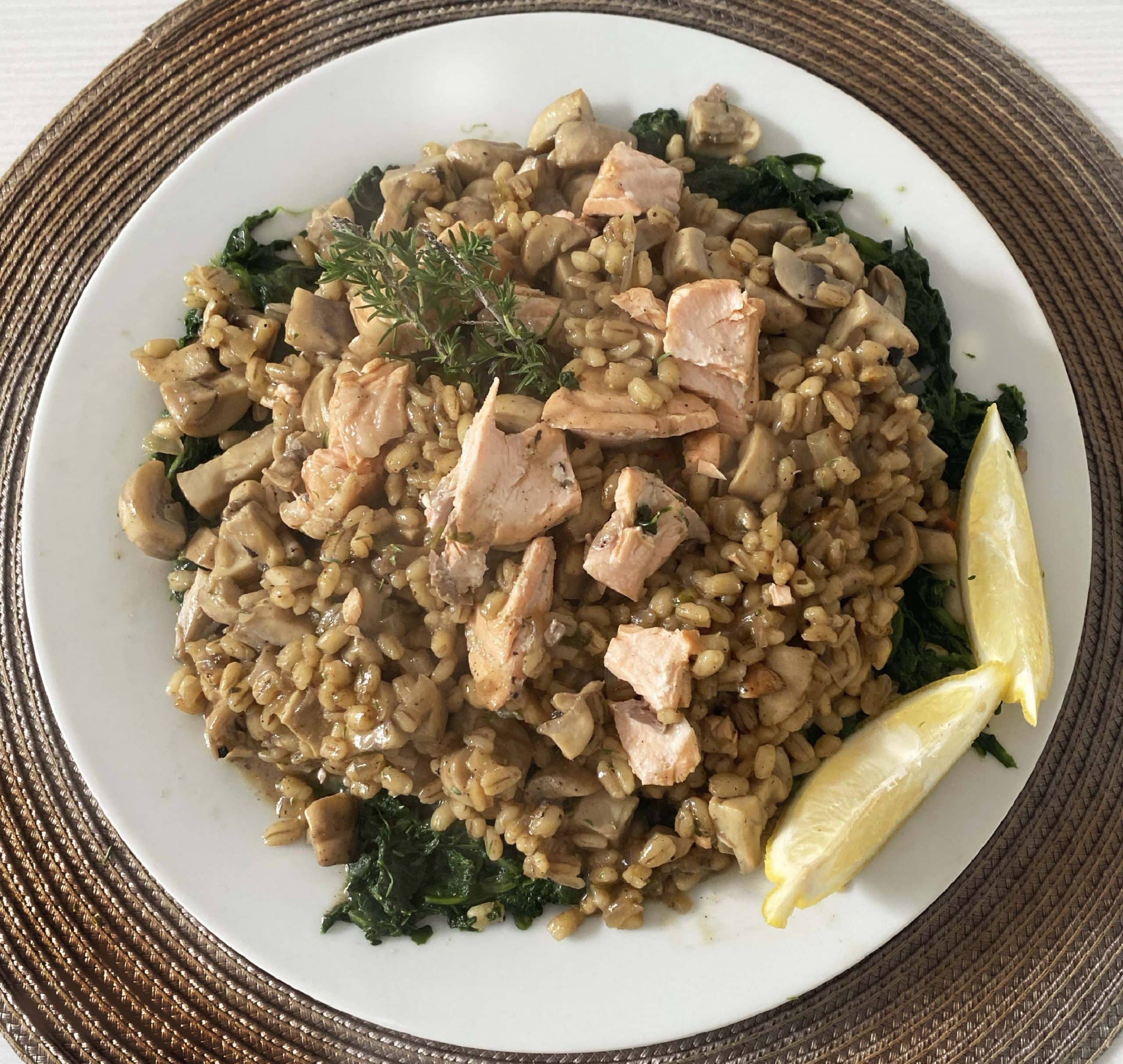 Pearl Barley Risotto With Salmon
Delicious & healthy main meal idea from Marion Mizzi recipe book! 
Tip: Portions may be large. You can divide the portion throughout the day.
Ingredients:
600g baby spinach
100g Findus Salmon Fillet
1 lemon
2 sprigs thyme
Few sprigs of chervil
1 onion - peeled and finely chopped
50g pearl barley
10 mushrooms - cut into quarters
450ml Lombardi fish, chicken or vegetable stock
Salta and black pepper
Fry Light Low-Calorie Spray
Method:
Heat some Fry Light Low-Calorie Spray in a saucepan. Add the onion and saute over low heat for 4 to 6 minutes. Add the pearl barley to the pan, stir well, and pour over approximately 1/3 of the Lombardi stock. Cook over medium-high heat for 20 minutes, stirring frequently and adding more stock to the pan as the liquid is absorbed. Add the mushrooms and the salmon. 
Cook for a few minutes while adding more stock if needed.
Meanwhile, boil the spinach for a few minutes. Drain and puree.
Taste to check that the pearl barley is cooked (it has a naturally chewy texture), then stir the spinach puree.
Enjoy!
Follow Marion Mizzi Wellbeing on Facebook or Instagram for more recipes!
Lack of motivation or information? Join us in one of our Slimming Clubs, we are in Fgura (21 896545), Mellieha (21 524025), Sliema (21 370208)
RELATED RECIPES