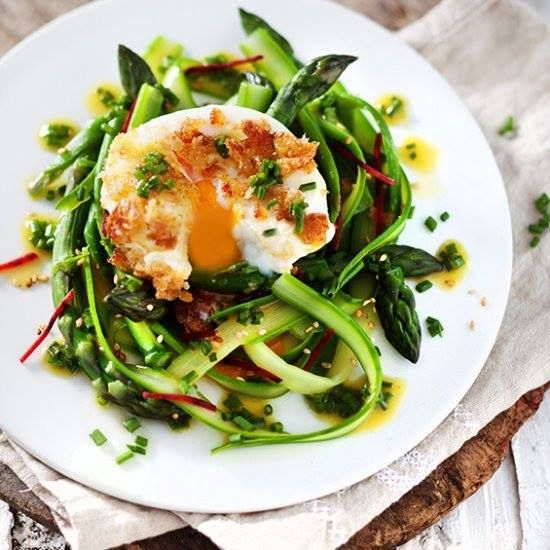 Poached Egg with Asparagus Salad
Eat healthy in under 30 minutes with this simple recipe for poached egg with asparagus salad.
Ingredients
300g green asparagus
1 egg
1 slice Slimex Bread
chives, chopped
1 tablespoon vinegar
2 teaspoons mustard
1 teaspoon honey
4 teaspoons lemon juice
2 tablespoons vinegar for poached egg
Method
1. Mix the vinegar, mustard, honey and lemon juice in a bowl and slowly stir. Add chives to the vinaigrette, mix well and refrigerate.
2. Wash asparagus and cut off wooden ends. Boil the asparagus for about 3 minutes, remove and dip into a bowl of ice water.
3. Cut asparagus with a sharp knife, or vegetable peeler, into thin slices and decorate a plate.
4. Fill a saucepan with water, add 2 tablespoons vinegar. Bring it to a light simmer over a medium heat.
5. Crack the egg into a cup and gently pour the egg into the middle of the water and cook for about 2-4 minutes. Remove the egg to kitchen paper to dry off.
6. Crumble the Slimex toast with your fingers. Put some Fry light into the pan and add the slimex crumbs and cook until golden brown.
7. Decorate poached egg onto the asparagus salad. Sprinkle with toast crumbs.
8. To finish, drizzle with the chives and vinaigrette
RELATED RECIPES