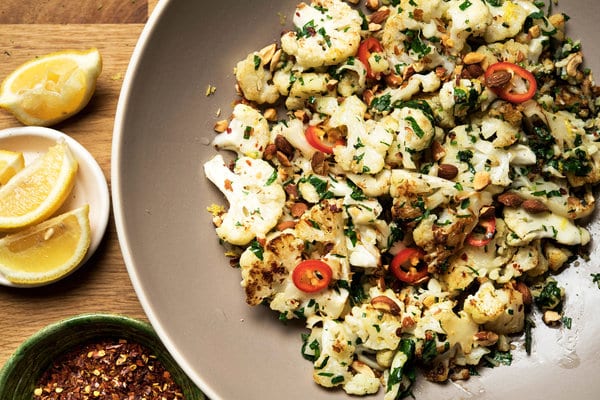 Sautéed Cauliflower And Anchovies
Marion Mizzi Diet Tip: 
Vegetables are extremely important. Consume about one and a half kilos of vegetables a day using the varied recipes indicated in the weight loss programme. One can increase this amount according to his or her appetite. You can consume these vegetables in two or three portions during the day. 
Ingredients:
1 cauliflower - cut into florets
2 tablespoons water
2 teaspoons red wine vinegar
1 cup cherry tomatoes - halved
2 tablespoons fresh parsley - chopped
1 tablespoon garlic - minced
4 anchovy fillets - minced (optional)
1/4 teaspoon salt
1/4 teaspoon freshly ground pepper
6 slices Slimex bread - toasted
Fry Light Low-Calorie Spray
Method:
Spray a pan with Fry Light Low-Calorie Spray. Add the cauliflower, cover, and cook, stirring occasionally, for 4 minutes. Add water and vinegar, cover, and cook, stirring occasionally, until golden brown and tender and the liquid had evaporated, for about 4 more minutes. Add the tomatoes, parsley, garlic, anchovies (optional), salt and pepper.
Cook, while stirring, for about 2 more minutes, until the garlic is soft. Serve the sauteed cauliflower with the toasted Slimex bread slices. 
Enjoy! Don't forget to take a picture and share it with us, tag @marionmizzi! 
Come for a FREE consultation & get a FREE trial session. This would allow us to understand your needs better and guide you on the best programme to reach your goals as we have lots of different programmes available.
Give yourself the best chance at achieving your weight loss goals with Marion Mizzi's unique products, treatments, and recipes. Nobody said weight loss had to be stressful!
To book 21370208 - Sliema, 21896545 or 21675696 - Fgura, 21524025 - Mellieha or send us a message on a live chat! 
People Review: https://www.facebook.com/MarionMizzi/photos/a.10150814200669993/10159166837159993/
Find Our Our Success Stories: https://www.marionmizzi.com/slimming/success-stories/
Do you want more recipes? Join our private group: www.facebook.com/groups/435354147591689 & follow us on instagram.com/marionmizzi_wellbeing
RELATED RECIPES