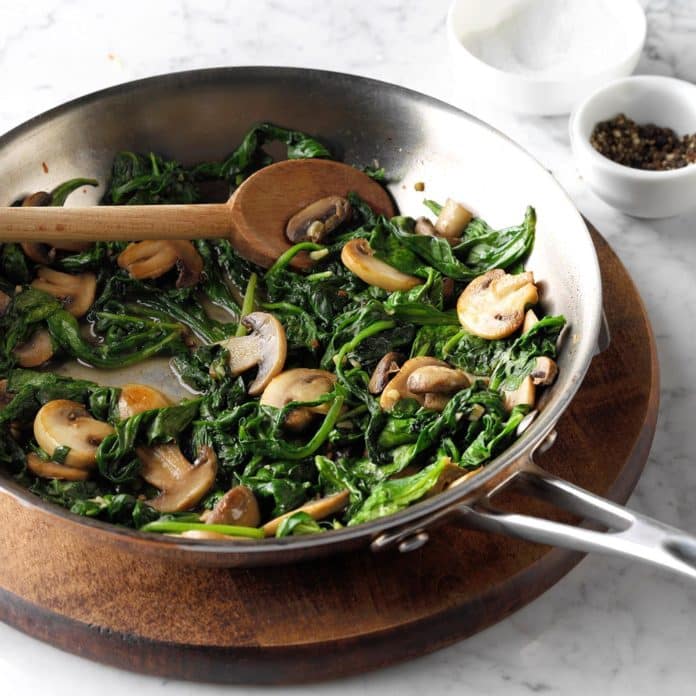 Sauteed Spinach & Mushrooms
If you love easy to make vegetables with lots of flavours you are going to love this dish.
Marion Mizzi recipes are easy to prepare, delicious, and super healthy! This recipe from "A Journey To A Happy You" Find book here.
INGREDIENTS:
1 small onion - chopped
2 garlic cloves - chopped
400 g fresh mushrooms - sliced
280g clean fresh spinach - roughly chopped
2 tablespoons balsamic vinegar
1/2 cup white wine
salt & freshly ground black pepper (to taste)
fresh parsley - chopped (to garnish)
METHOD:
Heat some Fry Light Low Calorie Spray in a large skillet over medium-high heat.
Saute the onion and the garlic until tender. Add the mushrooms and fry until they begin to shrink for about 3 to 4 minutes. Toss in the spinach and fry, stirring constantly for a few minutes, or until it is absorbed, then stir in the white wine. 
Reduce heat to low, and simmer until the wine is almost completely absorbed. 
Season with salt and pepper to taste and sprinkle with fresh parsley. 
Serve hot. 
Enjoy! Don't forget to take a picture and share it with us, tag @marionmizzi! 
Join us on Facebook www.facebook.com/marionmizzi/ & follow us on instagram.com/marionmizzi_wellbeing for more recipes! 
RELATED RECIPES