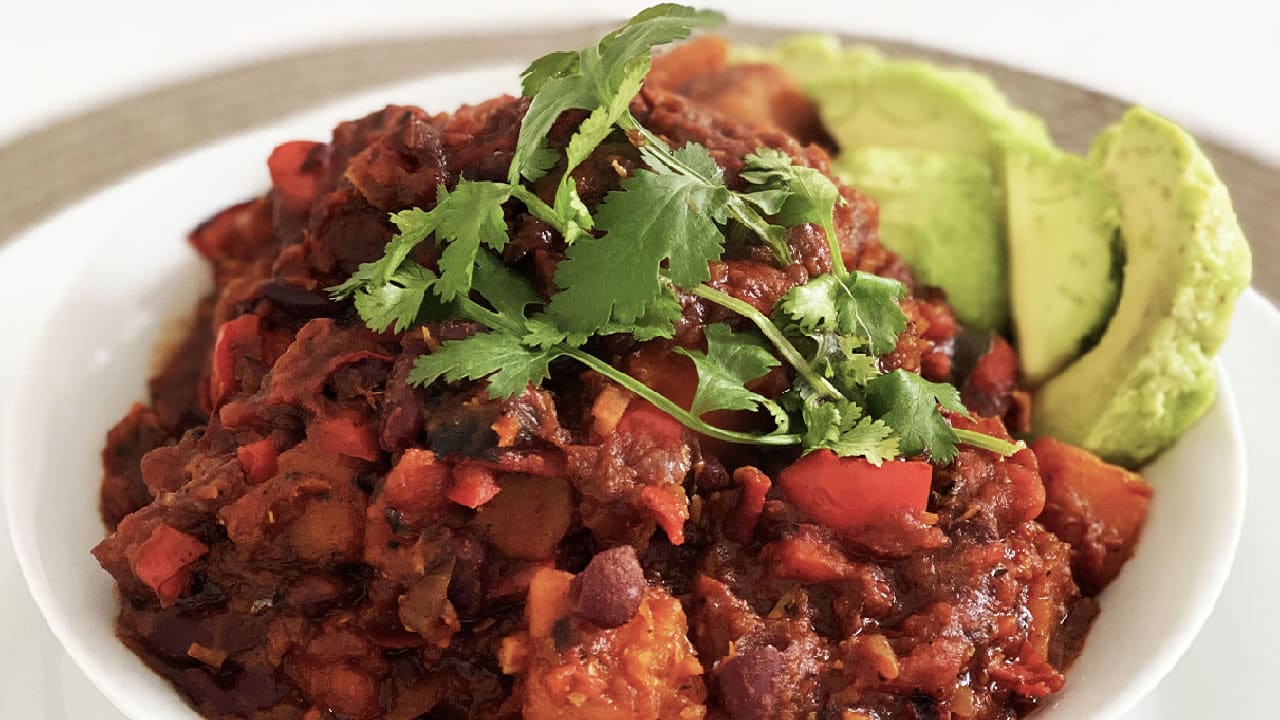 Vegetarian Chili With Avocado
Delicious & healthy main meal idea from Marion Mizzi recipe book "A Journey To A Happy You".
You will never feel hunger pangs with Marion Mizzi's diet! 
Ingredients:
1 medium red onion - chopped
2 red bell peppers - chopped
1/2 small butternut squash - chopped into 1/2- inch cubes
4 garlic cloves, pressed or minced
1 tablespoon chili powder
1/2 teaspoon chopped chipotle pepper
1 teaspoon ground cumin
1/4 teaspoon ground cinnamon
1 bay leaf
100g canned black beans
1 can tomato pulp
2 cups Lombardi vegetable stock
1/2 avocados - diced
Chopped fresh coriander and/or red pepper flakes
Fry Light Low-Calorie Spray
Method: 
Spray a large pan with Fry Light Low-Calorie Spray and add the onion, bell pepper, and butternut squash and cook, stirring occasionally until the onions are turning translucent.
Turn the heat down to medium-low and add the garlic, chili powder, chopped chipotle peppers, cumin, and cinnamon. Cook, stirring constantly, until fragrant, about 30 seconds. Add the bay leaf, black beans, tomatoes, and their juices and broth. Stir to combine and cover for about 1 hour, stirring occasionally. Taste about halfway through cooking and add more chopped chipotle peppers if you would like.
Serve with diced avocado. 
Marion's advice: I added a little sprinkle of red pepper flakes (optional). Coriander would be nice as well. 
Follow Marion Mizzi Wellbeing on Facebook or Instagram for more recipes!
Lack of motivation or information? Join us in one of our Slimming Clubs, we are in Fgura (21 896545), Mellieha (21 524025), Sliema (21 370208). 
RELATED RECIPES