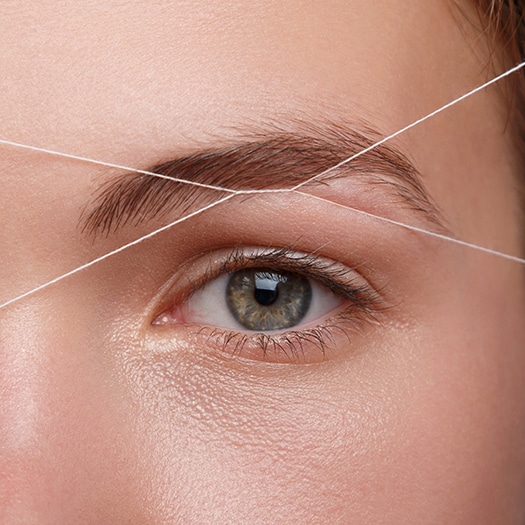 Tinting
PRICING
Eyebrow Tint €14
Eyebrow Shaping €20
Eyebrow Tidy €10
Eyelash Tint €14
Eyelash & Eyebrow Tint €24
Tinting: A Subtle Solution for Unwanted Hair
Facial hair tinting is a discreet and effective method for addressing unwanted facial hair. Unlike traditional hair removal techniques such as waxing or threading, facial hair tinting doesn't involve removing the hair from the root. Instead, it focuses on altering the color of fine or light facial hair to make it less noticeable.
This process is particularly popular for individuals with blonde, light brown, or fine facial hair that may not respond well to other hair removal methods. It involves the application of a specially formulated tint to the targeted areas of the face, which adheres to the hair and slightly darkens its color. The result is a less conspicuous appearance of facial hair, providing a subtle and natural solution for those looking to minimize the visibility of unwanted facial hair.
Facial hair tinting is a quick and non-invasive procedure that can be performed by trained professionals at beauty salons or spas. It offers a temporary solution, as the tint gradually fades over time and typically lasts for a few weeks, depending on individual hair growth rates and the type of tint used.
Overall, facial hair tinting is a convenient and low-maintenance option for individuals who prefer not to remove facial hair but wish to make it less noticeable, leaving them with a more confident and refreshed look.
A non-invasive, temporary solution to subtly darken light or fine facial hair, enhancing your natural look with benefits such as minimal maintenance and boosted confidence.
Eyebrow Tint €14
Eyebrow Shaping €20
Eyebrow Tidy  €10
Eyelash Tint €14
Eyelash & Eyebrow Tint €24
Benefits
Enhanced Natural Look: Tinting can enhance your natural features by subtly darkening hair or lashes, providing a more polished appearance without the need for heavy makeup or artificial colorants.

Time and Maintenance Savings: Tinting can reduce the need for daily makeup application or frequent hair coloring, saving you time and effort in your daily beauty routine.

Confidence Boost: Many people find that tinting gives them a confidence boost, as it helps them achieve a well-groomed look that lasts, whether it's for defined eyebrows, darker eyelashes, or subtly colored facial hair.
We think you will also like
Whether you are looking to lose weight or achieve maximum relaxation, Marion Mizzi Wellbeing has the perfect treatment for you! Treat your mind, body and soul to ultimate paradise.