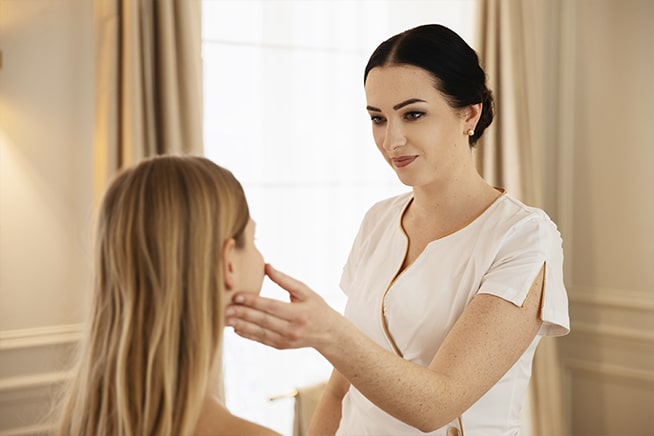 Biologique Recherche by Marion Mizzi Spa
PRICING
Biologique Recherche's methodology is based on over forty years of experience using unique, exclusive treatment protocols personalized to suit each Skin Instant©

Suitable for both men and women, the methodology encompasses three fundamental stages:

Stage 1: Assessment Stage

A Biologique Recherche skin expert will start by thoroughly diagnosing your skin. Using the Skin Instant Lab, supplemented by the VisioLab© and a detailed questionnaire, they will define your individual Skin Instant©. This assessment then enables them to recommend a personalized beauty treatment.
Stage 2: Initialization Stage

The treatment protocol begins by preparing your epidermis, which acts as a shield to protect from external aggressions. This rigorous ritual will ready your skin to receive the benefits of your treatment, through:

• Thorough cleansing of your skin, including a facial massage
• Exfoliation of your skin with our iconic Lotion P50, followed by a face mask.
Stage 3: Treatment Stage

Products containing the highest concentrations of active ingredients are applied to "re-condition" the epidermis, helping activate its capacity for auto-regeneration:
• A tailor-made cocktail of precisely targeted, authentic serums is applied by the Biologique Recherche expert.
• The treatment and finishing stage fixes and optimizes the beauty treatment's efficacy through the use ofbotanical and marine biological active ingredients, creams and finishing serums to suit your skin type and its needs. These active ingredients work progressively to improve your skin's elasticity, tightening and defining your face's natural contours.
AUTHENTIC AND HARMONIOUS PRODUCTS
The Biologique Recherche products we use in our beauty treatments all fulfil very specific criteria:

• Formulas are high in active ingredients and made with fragrance-free natural or biotechnological ingredients
• To improve the synergistic absorption of active ingredients, the beautician complements manual stimulation with the use of our Remodeling Face machine to produce exceptional instant results that seem almost magical...
Benefits
Exceptional instant results that seem almost magical…
We think you will also like
Whether you are looking to lose weight or achieve maximum relaxation, Marion Mizzi Wellbeing has the perfect treatment for you! Treat your mind, body and soul to ultimate paradise.