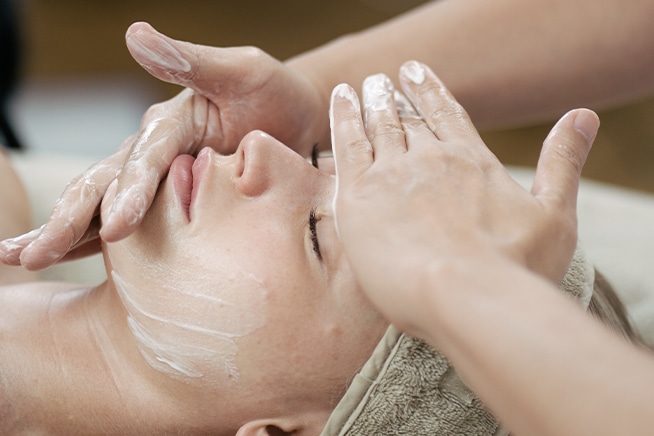 CUSTOMIZED FACIAL TREATMENTS
PRICING
Soin Booster VIP O2
For brighter skin
A treatment to detoxify and stimulate the epidermis and re-oxygenate skin tissue, for dull Skin Instants© choked by urban pollution. Your complexion is incredibly revitalized, skin is more luminous and radiant.
Soin Restructurant et Lissant
For plumped-up skin
A skin reconditioning and plumping treatment suitable for all Skin Instants©. The skin of your face, neck and décolleté is hydrated, smoothed and regenerated.
Soin MC110
For minimising wrinkles
A treatment that reduces wrinkles and fine lines, designed for lackluster Skin Instants©. It leaves the skin on your face, neck and cleavage toned and redefined.
Soin Lift C.V.S.
For given the face a lift
An exfoliating and firming treatment combined with a unique manual technique designed to treat Skin Instants that are thick, slack or lacking tone. The skin is revitalized, more toned, as if it has had a «lift».
Soin Peeling aux Acides de Fruits
For finer skin texture
An exfoliating and regenerating treatment for lined, lackluster and thick Skin Instants©. It leaves the skin smoothed and with a finer texture.
Soin Masque Exfoliant P50 Visage
For deeply purified skin
An exfoliating and regenerating treatment for keratinized Skin Instants and skin with an irregular micro-profile. It evens out skin tone, leaving your face smooth and glowing.
To complete your facial, we offer additional modules that target specific skincare needs, using exclusive products or machines.
These extras are only available with treatments of 90 minutes or longer.
Module Contour des Yeux
For a fresher appearance around the eyes
A unique, targeted treatment specifically designed for Skin Instants© with dark circles, bags or wrinkles around the eyes. It reduces puffiness, lightens dark circles, and smooths fine lines and wrinkles to make the eye are look brighter.
Module Co-Facteurs
An intensive custom treatment
For even more visible results, enhance your treatment with the application of a mask pre-infused with active ingredients, which molds itself to the shape of your face for an individualized intensive treatment.
Module Remodeling Face©
To optimize the efficacy of our treatments
A state-of-the-art bio-electric stimulation treatment that combines the power of three currents (galvanic current, medium and high frequencies) for instant and lasting results.
Module Mentonnière
To redefine the jawline and throat
Chin straps help remodel the face and throat with their powerful smoothing and toning action for an immediate and lasting lifting effect on the jawline and facial contours.
Module Micro-Puncture©
To combat the effects of aging
An intensive treatment that activates collagen production through intra-epidermal micro-stimulation and helps combat premature signs of skin aging.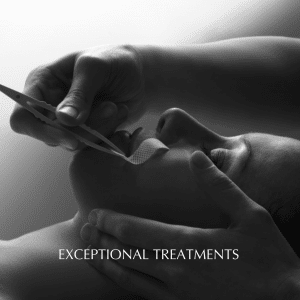 Soin Toleskin
Pour une peau soulagée
Some Skin Instants are highly intolerant, whether through heredity or as a result of draining medical or esthetic interventions, and need special care and instant soothing relief. This unique SOS treatment calms the skin while strengthening the epidermis, reducing skin sensitivity, and decreasing redness and itching.
Soin Triple Lift (Remodeling Face©) - 120 minutes
Pour une peau liftée
The ultimate toning and firming treatment for saggy Skin Instants© that lack structure and tone. The features and contours of the face, neck and cleavage are retightened, leaving skin restructured.
Pre-and Post-Aesthetic Medicine Treatments
If you have had, or are planning, a cosmetic procedure, we offer specific targeted treatments to prepare or soothe your skin, ensuring the best possible results and speeding up the skin regeneration process. Please let our staff know the details of your procedure when you make your appointment.
Soin Seconde Peau* - 60 minutes
A world first in professional aesthetic care, this regenerating and lifting treatment features an electrospun mask with 80% pharmaceutical-grade hyaluronic acid and is designed for altered Skin Instants©. We recommend 3 sessions at 1-week intervals, followed by one session every three months*.
*This treatment is not included in the Privilege Pass package.
CONTACT US FOR FACE PRICE LIST
Facial treatments are tailored to the needs of your Skin Instant© by one of our expert beauticians. The longer your skincare treatment is, the more specific techniques and additional treatments can be added to give you the best experience.
CUSTOMIZED TREATMENTS
45 minutes *
60 minutes *
90 minutes *
120 minutes *
Biologique Recherche's Privilege Pass lets you enjoy 5 facials and/or body treatments lasting 60 or 90 minutes.
(Excluding Seconde Peau and Specific Treatments)
5 Treatments of 60 minutes *
5 Treatments of 90 minutes *
LE GRAND SOIN
A unique, fully personalized treatment experience for you to enjoy Biologique Recherche's expertise in face, body and hair care for a whole 3 hours.Find out more at Reception or from your beautician. 180 minutes*
* Contact us for the price list.
Benefits
For brighter skin
For plumped-up skin
For minimising wrinkles
For giving the face a lift
For finer skin texture
For deeply purified skin
We think you will also like
Whether you are looking to lose weight or achieve maximum relaxation, Marion Mizzi Wellbeing has the perfect treatment for you! Treat your mind, body and soul to ultimate paradise.