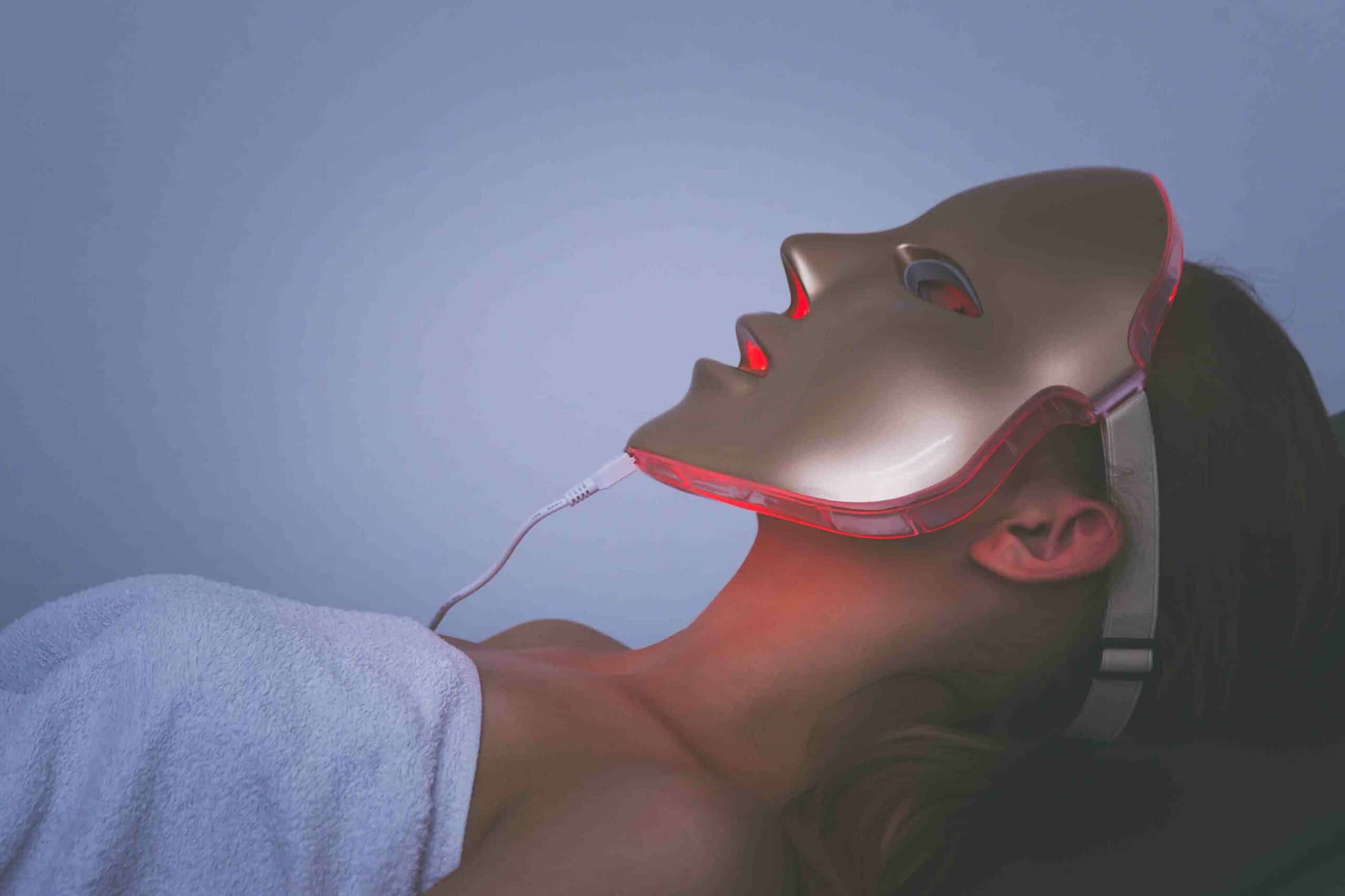 LED light therapy uses three different light modes to combat wrinkles, acne, and scars. In as little as one session, you can visibly see the positive effects of LED lights on your skin.
What is the process?
The typical process of an LED light therapy facial starts with your medically trained esthetician applying hot steam to open up your pores and prep your face for treatment. She will then use different products to cleanse and exfoliate your skin, including lactic acid and an ultrasound exfoliation. You will then wear the LED light therapy mask for about 20 minutes using the right light mode to resolve your unique problems. If your skin is especially prone to acne, she might conclude the treatment by using a high-frequency tool to zap bacteria. 
Wrinkle Filler – Pink + Red Light Mode
The pink and red light modes on an LED light therapy mask are the most universal LED light because they stimulate collagen production. Your esthetician will use these modes if you have fine lines or wrinkles around your eyes, brow, or mouth. They also reduce inflammation and promote circulation, which is great for laser or microneedle post-treatment healing. If your skin is also acne-prone, the pink or red light modes will target your skin's oil glands to reduce substances that can cause chronic acne, although the blue light mode is most effective at treating acne.
Acne Eraser – Blue Light Mode
The blue LED light is known for its antimicrobial effects because it causes the development of oxygen radicals that kill the bacteria specific to acne without damaging surrounding healthy skin. The great thing about using blue LED light to treat acne is that it doesn't cause any dryness or peeling like benzoyl peroxide or topical prescription products would. It's pain-free, has no downtime, and is safe when pregnant or breastfeeding. Clients have noticed that, three days after the treatment, inflamed cysts that were forming under the skin before the facial had subsided. The results from LED light therapy are cumulative, so we typically recommend clients do one treatment a week for eight to ten weeks for optimal results.
Scar Healer – White Light Mode
The white light of an LED light therapy mask has the longest wavelengths and therefore goes the deepest into the skin. The white light is used for a variety of skin rejuvenating effects, including tightening and toning the skin, healing acne scars, erasing sun damage or dark spots, and reducing inflammation. Many people suffer from the effects of poor skin treatment due to acne, so the accelerated skin recovery benefits of white LED light can be extremely beneficial to them. And like we mentioned above, multiple sessions will yield the best results and can prevent the signs of aging for future glowing skin.
Benefits
Hydro dermabrasion is used on all skin types to
help aging skin,
skin that is congested,
blemished, or dull and discolored skin.
Oily skin can benefit to make it less greasy, and pores can be shrunk.
Mild acne scars can be reduced, and fine lines can be decreased.
Puffy eyes have also been treated using hydro dermabrasion.
There will also be an increase in circulation and lymph flow.
Skin will see results immediately after the procedure. The skin will be soft and feel hydrated.
Gentle enough for all skin types, the hydro dermabrasion is known to increase blood circulation and improve both collagen production and skin tone. 
We think you will also like
Whether you are looking to lose weight or achieve maximum relaxation, Marion Mizzi Wellbeing has the perfect treatment for you! Treat your mind, body and soul to ultimate paradise.