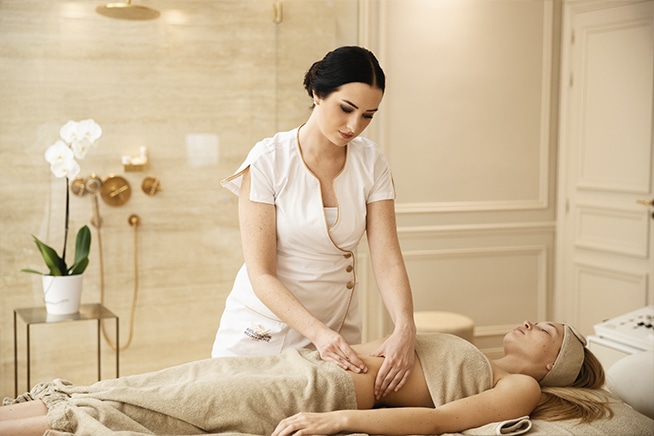 Body Bespoke Treatments
PRICING
Our Bespoke treatments for the body are tailored to target specific areas. Each treatment can be applied to the entire body or to selected zones. The beauty practitioner will discuss with you what protocol(s) best match your needs according to the duration of treatment you choose.
If required, your Biologique Recherche practitioner can carry out a comprehensive personalized evaluation of how to treat specific areas of your body – ask for this when making your appointment.
PERSONALIZED BODY DIAGNOSIS
Without appliances
The personalized body diagnosis is carried out before treatment by your beauty practitioner and focuses on your specific needs (weight loss, firmness, stretch marks). It has three components: an in-depth questionnaire, taking precise measurements, and a visual and tactile analysis of the body areas to be treated. Using their expertise, the practitioner then devises treatments that are 100% personalized and fulfil the needs of your Skin Instant©.
IMPÉDANCEMÈTRE
By appointment only
This professional scale gives objective measurements of the body composition such as body mass index, lean body mass, and muscle mass. It is particularly suited to people who want to lose weight or gain muscle. Your beauty practitioner will guide you in devising a Bespoke program.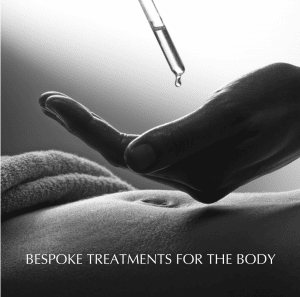 BODY TREATMENTS

Préparation Epidermique
For smoother, more hydrated skin
An exfoliating and regenerating treatment. It leaves your skin softer, more even and hydrated.
Soin Jambes Légères
For a sensation of lightness
A draining and anti-swelling treatment that stimulates circulation and leaves your legs feeling less heavy.
Soin Minceur aux Algues
To detoxing your body
A purifying and detoxifying treatment. It helps eliminate toxins and improves micro-circulation.
Soin Booster Minceur
For redefining your contours
A draining treatment that produces a slimmer shape and improves the appearance of cellulite.
Soin Lift Corps
For a toned and sculpted body
A firming and toning treatment that leaves you with a refined skin texture and resculpted body.
Massage Sur Mesure
For a total decompression, both in body and mind
This ultra-personalized treatment targets specific areas with pinpointed massage maneuvers. It combines our iconic stomach massage with a mixture of manual stretching techniques and targeted pressure points to help you unwind completely. The massage strokes will be adjusted to your preferences – whether relaxing, energizing or regenerating.
EFFECTIVENESS ACCELERATOR MODULE
Module Remodeling Buste et Bras©
To optimize the effectiveness of our treatments.
A state-of-the-art bio-electric stimulation treatment hat combines the power of three currents (galvanic current, medium and high frequencies) for instant and long-lasting results.
Benefits
For smoother, more hydrated skin
For a sensation of lightness
To detoxing your body
For redefining your contours
For a toned and sculpted body
For a total decompression, both in body and mind
We think you will also like
Whether you are looking to lose weight or achieve maximum relaxation, Marion Mizzi Wellbeing has the perfect treatment for you! Treat your mind, body and soul to ultimate paradise.