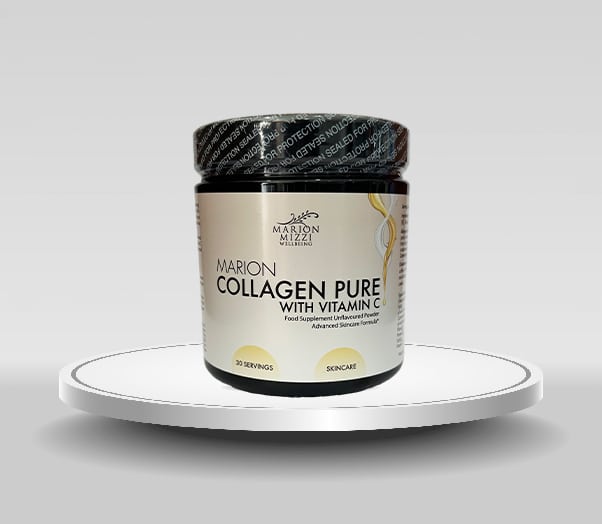 Collagen Pure with Vitamin C
Boost your skin's natural beauty with Collagen Pure – the ultimate anti-ageing solution enriched with Vitamin C!
7 Benefits of Collagen Pure with Vitamin C:
Wrinkle Reduction: Promotes collagen formation, reducing the appearance of wrinkles and fine lines.
Improved Skin Elasticity: Increases skin elasticity, leading to a more youthful and supple complexion.
Muscle Mass Enhancement: Helps boost muscle mass, supporting strength and physical performance.
Bone Health Support: Reduces bone loss, promoting healthy bones and preventing age-related bone issues.
Joint Pain Alleviation: Alleviates joint pain and discomfort, improving mobility and flexibility.
Antioxidant Protection: Vitamin C's antioxidant properties protect cells from oxidative stress, maintaining overall health.
Immune System Boost: Supports immune system function, enhancing your body's defence against illnesses.
Experience the transformative power of Collagen Pure with Vitamin C today! Enjoy a radiant, youthful glow from the inside out.
Directions to use: mix one scoop (scoop provided) with water, coffee, or any other drink and stir to dissolve. Alternatively mix with yoghurt, soup, smoothie, or sprinkle over your breakfast cereal.
To purchase, send us a WhatsApp message at +356 9992424 with the text "to purchase Collagen Pure with Vitamin C" or call visit any of our shops 
AX Palace Hotel, Sliema +356 22623421
Marion Mizzi Wellbeing Fgura, Zabbar Road +356 21896545 / 21675696
Maritim Antonine Hotel, Mellieha 21524025
Radisson Blu, St. Julians (+356) 2375193
Available for purchase on WOLT. 
If you have any questions, do not hesitate to send us an email on marketing@marionmizzi.com
We think you will also like
Whether you are looking to lose weight or achieve maximum relaxation, Marion Mizzi Wellbeing has the perfect treatment for you! Treat your mind, body and soul to ultimate paradise.