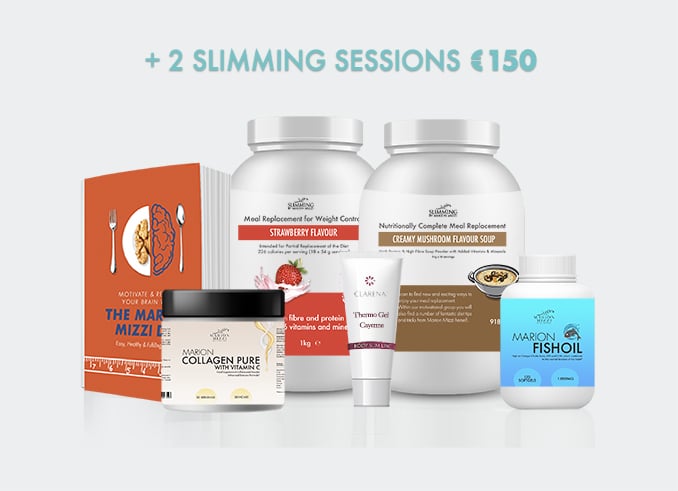 Welcome to the Marion Mizzi Home Pack, the ultimate solution to help you achieve your weight loss goals in a healthy, fulfilling, and enjoyable way. Our Home Pack includes a range of products designed to support you every step of the way, and we highly recommend using it together with our Slimming Programmes for the best possible results.
What's included in the Marion Mizzi Home Pack:
Sweet Meal Replacement: Our delicious and nutritious sweet meal replacement is the perfect solution for a healthy, filling snack or meal replacement. It's available in various flavours and contains 26 essential vitamins and minerals, providing all the necessary nutrients to stay energised and satisfied throughout the day—price: €40 for 1kg.

Soup Replacement: Our convenient and delicious soup replacement is an ideal solution for those with busy lifestyles who are looking to stay on track with their weight loss goals. It's high in protein, high in fiber, low in fat, and enriched with vitamins and minerals to help keep you full and satisfied for up to 3 hours. Price: €40 for 918kg

Fish Oil: Our high-quality fish oil supplement is packed with omega-3 fatty acids, which are essential for maintaining overall health and wellbeing. It's also been shown to support weight loss by reducing inflammation, boosting metabolism, and reducing appetite. Price: €25 for 60 capsules.

Collagen with Vitamin C: Our collagen supplement with added vitamin C is a great way to support your skin, hair, nails, and joints, while also promoting weight loss. Collagen helps to keep your skin firm and elastic, while vitamin C supports collagen production and helps your body to absorb it more effectively. Price: €30 for 30 sachets.

Recipe Book: Our recipe book is packed with over 500 delicious and healthy recipes, along with tips on meal planning, calorie counting, and more. It's the perfect tool to help you stay on track with your weight loss goals and keep your meals exciting and varied. Price: €20 per book.

Firming Cream: Our indulgent firming cream is designed to accelerate the regeneration, hydration, and nourishment of your skin, while also providing optimal elasticity. Its rich formula guarantees comprehensive care and strengthens the structure of areas being treated, helping you to achieve a toned and firm appearance. Price: €30 for 200ml.

2 Slimming Sessions: Our Home-Pack also includes 2 slimming sessions to help you achieve optimal results. These sessions use a  electrical muscle stimulation to target stubborn fat and helps for inch-loss.
Price: €150 for Home Pack + 2 sessions.
At Marion Mizzi, we believe that your body is your temple, and it's our mission to help you treat it with the care and attention it deserves. Whether you're looking to lose weight, improve your overall health and wellbeing, or simply feel more confident and comfortable in your own skin, our Home-Pack is the perfect solution for you. So why wait? Order your Home-Pack today and start your journey towards a happier, healthier you!
To purchase, send us a WhatsApp message at +356 9992424 with the text "to purchase HOMEPACK" or call visit any of our shops 
AX Palace Hotel, Sliema +356 22623421
Marion Mizzi Wellbeing Fgura, Zabbar Road +356 21896545 / 21675696
Maritim Antonine Hotel, Mellieha 21524025
Radisson Blu, St. Julians (+356) 2375193
or call and order online; the delivery charge is €5. 
If you have any questions, do not hesitate to send us an email on marketing@marionmizzi.com
We think you will also like
Whether you are looking to lose weight or achieve maximum relaxation, Marion Mizzi Wellbeing has the perfect treatment for you! Treat your mind, body and soul to ultimate paradise.