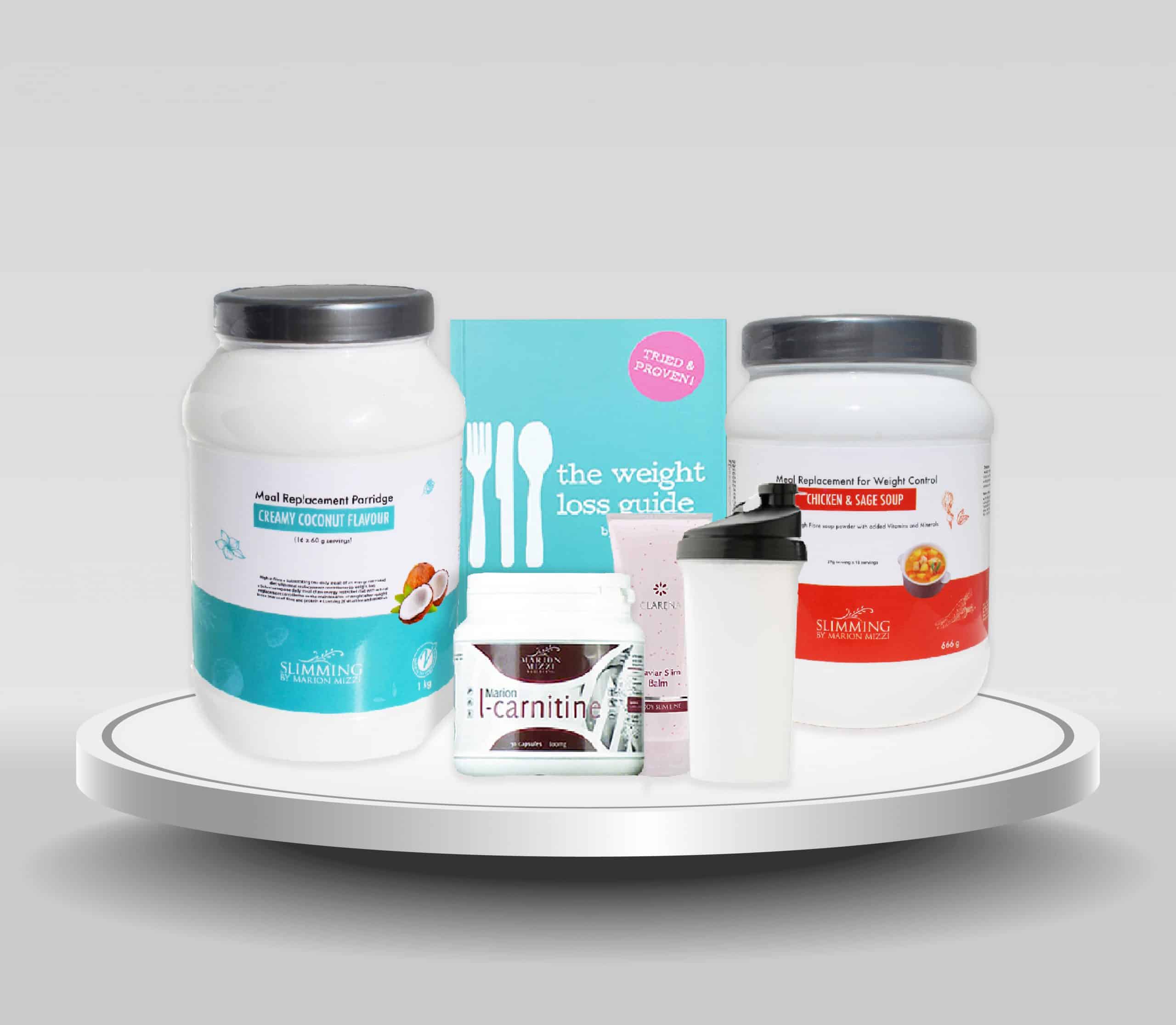 Home Pack
PRICING
Starting from €150
The Home-Pack is a healthy, fulfilling, easy and fun way to lose weight, and comes with all the support you need. We highly recommend using Home-pack together with our Slimming Programmes to achieve great results.
HOME-PACK INCLUDES:
Homepack + 2 sessions -
  

Now €150
Homepack + 6 sessions -
  

Now €200
Homepack + 10 sessions -
  

Now €300
The Marion Mizzi Recipe Book (1 book of your choice) €20
These amazing recipe books contain over 500 different and delicious low-calorie recipes, healthy diet tips, calorie counter, and more! Each of these publications is different from the other making them perfect to collect. 
The Marion Mizzi Sweet Meal Replacement €40 - 1kg
This tasty sweet replacement contains 26 vitamins and minerals along with the perfect proportions of all necessary nutrients to keep you full for up to 6 hours. It's delicious and varied flavours make it the perfect alternative to a sweet snack and an ideal solution for sugar cravings. 
Firming Product €30 - 200ml
This indulgent firming product helps accelerate the regeneration, hydration and nourishment of the skin as well as providing with optimal elasticity. It's rich formula guarantees comprehensive care and strengthens the structure of areas being treated. 
Marion Mizzi Soup Replacement €35 - 666g
This quick, easy and tasty soup replacement is an ideal solution for life on the go. Keeping you full for up to 3 hours - it is high in protein, high fibre and low in fat as well as enriched with vitamins & minerals. 
L-Carnitine €33 - 60 capsules
L-Carnitine is an amino acid, naturally present within our bodies. This is responsible to transport fat for metabolism making it an ideal booster for the body to burn more calories and produce more energy. 
An easy-to-clean replacement shaker which provides a convenient way to mix meal replacements on-the-go. the shaker consists of a cup or bottle with a tight-sealing lid and a drinking spout. 
Electrical Muscle Stimulation - Pressotherapy - Parafango Ultrasound Therapy - Needle Free Mesotherapy - Lipolaser - Cellulite Vacuum Therapy - Radio Frequency - Diathermy Heat Wrap 
Your body is your temple and it is your duty to treat it with care, indulge in one of our luxurious treatments, to help invigorate body, mind & soul. 
We think you will also like
Whether you are looking to lose weight or achieve maximum relaxation, Marion Mizzi Wellbeing has the perfect treatment for you! Treat your mind, body and soul to ultimate paradise.