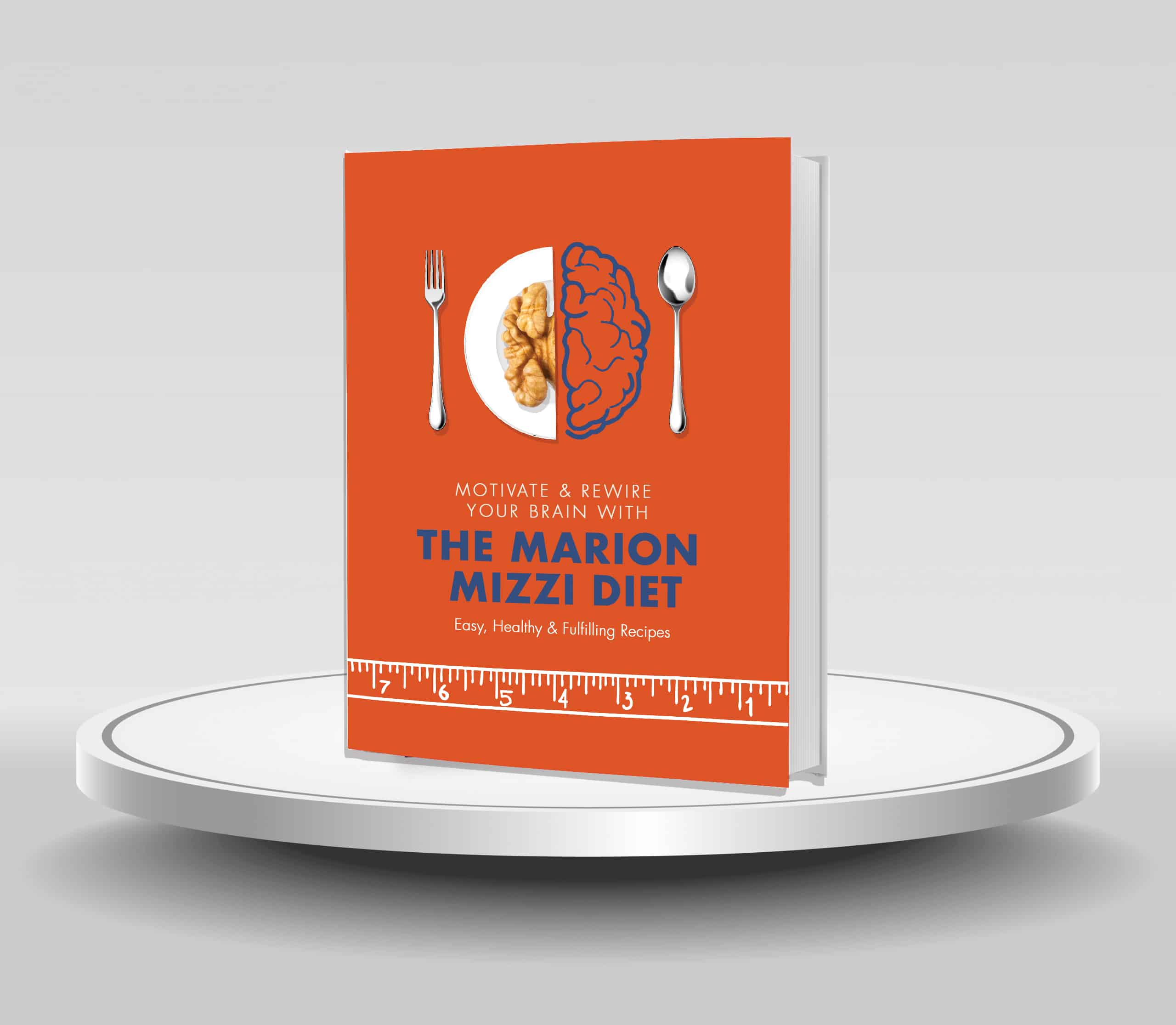 The 4th recipe book "Motivate & Rewire Your Brain with the Marion Mizzi Diet" has more than 150 recipes, suitable for all tastes & needs. 
All the recipes are calorie-controlled, make sure you're not adding any additional ingredients such as oils, seeds, nuts... 
All the recipes are only for 1 person. The portions can be divided and eaten throughout the day.

The book is divided into 9 chapters:
Introduction; explains how to follow the 7 step diet in order to achieve the desired weight result. How eating in volume can help you to lose weight and always feel full. What causes weight gain and how to decrease appetite? 
Marion's top brands; in this chapter, the client will find the products that we suggest in our diet. All the products are available locally, easy to use and we have tested the product to guarantee it has the correct calorific value. These selected brands make it easier for you to follow your weight loss programme while enjoying delicious meals.  Market the treats of the day; little snack recommendations to take at any time of the day
Vegan Dishes (approx. 400 kcal) -  You can find a variety of different soups, pasta, wraps also veggie-packed curries, and salads, these vegan recipes are vibrant, delicious and most important calorie- controlled & filling.
Vegetarian Dishes (approx. 400 kcal) - Meat-free meals which are easy to prepare and delicious. Includes a variety of different dishes such as pancakes, soups, salads, pies, savoury muffins and more.
Pescatarian Dishes (approx. 400 kcal) These recipes pair seafood and fish with whole grains and vegetables for a balanced meal. Try dishes like Prawn Pasta, Salmon Burgers or Smoked Salmon Sandwiches for an easy meal that requires just five steps or less to make.
Carnivore Dishes (approx. 400 kcal) The Carnivore Diet recipes on this list feature animal-based ingredients such as beef, chicken, pancetta, bacon, ham, and dairy. Recipes can be found such as Penne Bolognese, Cabbage & Pancetta Soup, Chicken Moroccan Salad and much more. 
Snack Ideas (approx. 200 kcal) These can be served as breakfast or as a snack idea. Start the day by drinking a large glass of water, followed by herbal tea or coffee (do not add sugar).
Side Dishes (approx. 300 kcal) These dishes can be served as a side dish or a starter to any meal and can be eaten at any time of the day. You'll find different soup ideas, kimchi, salads and more. 
Calorie counter; this chapter provides you with a table containing all the foods and the calories per 100 grams. It's a useful tool, enabling you to replace food by checking the calories.
To purchase a book send us a whatsapp message on (+356 9992424) with a text "to purchase The Marion Mizzi Diet book" or call on 
AX Palace Hotel, Sliema +356 22623421
Marion Mizzi Wellbeing Fgura, Zabbar Road +356 21896545 / 21675696
Maritim Antonine Hotel, Mellieha 21524025
or call and order online, the delivery charge €5. 
If you have any questions do not hesitate send us an email on marketing@marionmizzi.com
We think you will also like
Whether you are looking to lose weight or achieve maximum relaxation, Marion Mizzi Wellbeing has the perfect treatment for you! Treat your mind, body and soul to ultimate paradise.