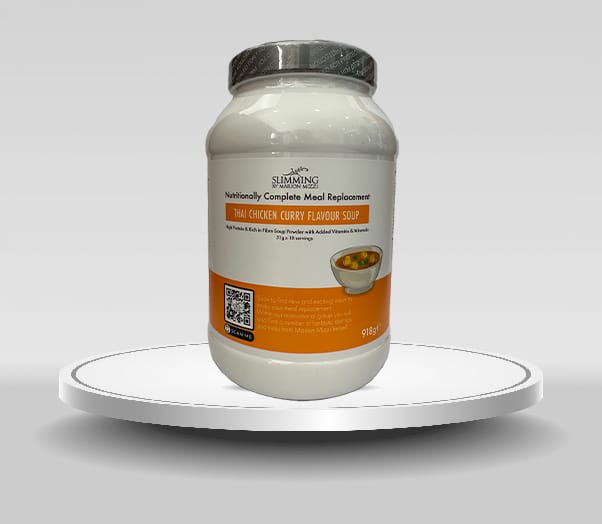 Thai Chicken Curry or Creamy Mushroom Soup Meal Replacement 1kg
Introducing our Soup Meal Replacement in two different flavours Thai Chicken Curry and Creamy Mushrooms - a delicious and nutritious way to satisfy your hunger and curb cravings. This high-protein, low-fat soup is enriched with vitamins and minerals to support your health goals. Simply add vegetables and enjoy!
Our soup replacement is designed to keep you feeling full for up to three hours, thanks to its high protein and fiber content. Adding added vitamins and minerals is a convenient and tasty way to stay on track with your healthy eating plan.
For those under 80 kilos, we recommend one scoop of soup powder (included in the bottle), while those over 80 kilos can enjoy 1.5 scoops. To prepare, mix the soup powder with a bit of cold water until creamy, then add warm water and season to taste with salt (or no salt for those with high blood pressure) and pepper. You can add raw or cooked vegetables or a scoop of couscous (only 1/2 scoop for diabetic clients).
Our Thai chicken soup meal replacement is suitable for vegetarians (but not for vegans). Give it a try and enjoy a tasty and satisfying way to support your health and wellness goals.
To purchase, send us a WhatsApp message at +356 9992424 with the text "to purchase MR Soup" or call visit any of our shops 
AX Palace Hotel, Sliema +356 22623421
Marion Mizzi Wellbeing Fgura, Zabbar Road +356 21896545 / 21675696
Maritim Antonine Hotel, Mellieha 21524025
Radisson Blu, St. Julians (+356) 2375193
Available for purchase on WOLT. 
If you have any questions, do not hesitate to send us an email on marketing@marionmizzi.com
We think you will also like
Whether you are looking to lose weight or achieve maximum relaxation, Marion Mizzi Wellbeing has the perfect treatment for you! Treat your mind, body and soul to ultimate paradise.